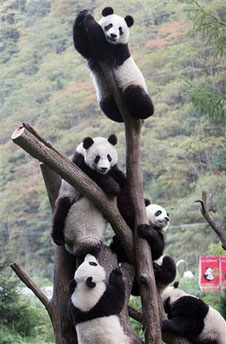 Pandas Facing Disease, Food Shortages

China Daily - www.chinadaily.com
16 Nov 2007
H Zhiling
This year's outbreak of contagious diseases among giant pandas has emphasized the need for more measures to ensure the bears' future safety, delegates to the 18th Annual Conference of the Chinese Committee of Breeding Techniques for the Giant Panda, have said.
Zhang Zhihe, the committee's chairman, said to avoid possible future outbreaks of highly infectious diseases, such as SARS (severe acute respiratory syndrome) and bird flu, it is critical to do more research on the supervision, prevention and treatment of such conditions - as well as so far undiagnosed diseases - and establish an emergency response system. . . .
Vets from the Chengdu Research Base of Giant Panda Breeding, where Zhang is based, worked with staff from Wolong to treat the sick pandas, but failed to diagnose the ailment, he said.
Wildlife Officials Report Swan Deaths in Sarnia, Ontario
CBC News - www.cbc.ca
15 Nov 2007
Area: Great Lakes
A recent spate of swan deaths near Sarnia, Ont., has worried wildlife officials and area residents. Experts say the deaths could be linked to botulism, which has caused a larger die-off of loons and other migratory birds on the Great Lakes. Greg Brunet of the Canadian Wildlife Service said that eight dead mute swans had been found on the banks of the St. Clair River, near Sombra. He said the dead birds had been there for close to two weeks.
An additional 10 swans have reportedly been found dead near Walpole Island. Brunet said three of the bodies have been shipped to the University of Guelph for analysis. Allan Anderson of Sombra told the Associated Press that residents were concerned about the deaths and feared they were caused by an oil or chemical spill.
NOAA, Partners Remain Active in Spill Response: Natural Resource Damage Assessment Process Underway
National Oceanic and Atmospheric Administration - www.noaanews.noaa.gov
15 Nov 2007
Area: California, USA
Photo courtesy of NOAA/NMS

NOAA organizations remain active in San Francisco aiding in the response to last week's spill of an estimated 58,000 gallons of intermediate fuel oil on Nov. 7 when the container ship M/V Cosco Busan struck the Oakland Bay Bridge in San Francisco Bay.

NOAA's Office of Response and Restoration continues providing scientific support to the Unified Command, which is led by the U.S. Coast Guard, State of California's Fish and Game Office of Oil Spill Prevention and Response and a representative of the shipping company. NOAA and the Department of Interior are working within the response, and with other state and federal trustees to develop the natural resource damage assessment.
Seven Hospitalised in Parrot Disease Scare
www.DutchNews.nl
16 Nov 2007
Area: Netherlands
A least 18 people are ill after catching what is thought to be psittacose, or parrot disease, after visiting a village bird show earlier this month. Seven of them have been hospitalised after feeling unwell earlier this week with flu-like symptoms. Among those in hospital are five members of the show's organising committee, NOS news reported on Friday.
Health officials hope to be able to say later today if parrot disease has definitely been identified. The show, in the village of Weurt near Nijmegen, was visited by some 200 people. The institute for animal diseases in Lelystad said such a large outbreak has never been recorded before in the Netherlands.
Wild Hogs Carry Disease That Can Be Transmitted to Humans
The Advocate - www.2theadvocate.com
15 Nov 2007
J Macaluso
Area: Louisiana
With the bulk of the hunting season opening this weekend, the LSU AgCenter is warning about diseases humans can contract when they field-dress game, especially wild hogs. Dr. Christine Navarre, an AgCenter veterinarian, said feral hogs are prone to carrying brucellosis, a bacterial disease that can be transmitted to humans who come in contact with the blood and the reproductive organs of infected pigs.
"Not every feral hog carries this disease. The problem is you don't know which ones carry it and which ones don't," Navarre said Wednesday. She said the meat of an infected hog is safe to eat once it is well cooked. "It makes me cringe every time I see photos of hunters with (feral) hogs and see the hunters holding knives and they aren't wearing gloves."
OTHER WILDLIFE DISEASE RELATED NEWS
WILDLIFE DISEASE RELATED PUBLICATIONS


Seroconversion in Wild Birds and Local Circulation of West Nile Virus, Spain
[free full-text available] [pdf]
Emerging Infectious Diseases. 2007 Dec; [Epub ahead of print]
J Figuerola et al
Human and Animal Infections with Mycobacterium microti, Scotland
[free full-text available] [pdf]
Emerging Infectious Diseases. 2007 Dec; [Epub ahead of print]
FX Emmanuel et al
Discovery of a Novel Alveolate Pathogen Affecting Southern Leopard Frogs in Georgia: Description of the Disease and Host Effects
[online abstract only]
EcoHealth. 2007 Sep; 4 (3): 310-317
AK Davis et al.