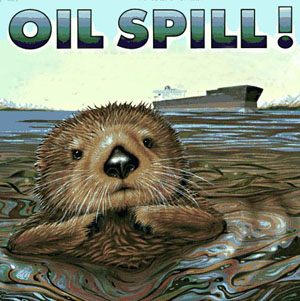 Racoons, Endangered Species Impacted by Oil Spill, Officials Announce
FogCityJournal.com
17 Nov 2008
Area: California United States

. . . Assistant Chief of the California Department of Fish & Game Steve Edinger gave an updated number of recovered wildlife, totaling 1,005 live birds, 1,030 dead birds, and two dead raccoons as of 2 p.m. today. Two species of birds currently on endangered species lists have also been recovered dead, including two Marble Murlets and one Brown Pelican, according to Edinger. In Half Moon Bay Friday, 38 birds were re-released and additional birds may be ready for release Monday, he said. Fish and Game officials will also be testing seafood caught within the restricted area three miles from the shoreline between San Pedro Point and Point Reyes Lighthouse, Edinger said.

Fishing ceased following Governor Schwarzenegger's executive order suspending fishing in areas affected by the oil spill until Dec. 1. Fishing outside of the restricted area is open, and fish and crab caught in open areas will not be tested for safety, Edinger said. "That was an area that we do not believe there was an impact to the seafood," Edinger said. Closed areas may be reopened if it is deemed safe by Fish and Game officials, but they may also be kept closed if necessary, according to Edinger.



Study Says Wild Birds Unlikely to Bring H5N1 to Americas
CIDRAP - www.cidrap.umn.edu
16 Nov 2007
R Roos
An analysis of influenza viruses collected from North American migratory birds over a 6-year period suggests that wild birds rarely carry avian flu viruses between Eurasia and North America, implying that the risk of the deadly H5N1 virus reaching the Americas by that route is probably low. A team of American and Canadian researchers based that conclusion on a study of 248 complete avian flu viruses and several thousand gene segments of flu viruses collected from birds in Alberta and on the New Jersey coast from 2001 through 2006. Their report, with Scott Krauss of St. Jude Children's Research Hospital in Memphis as lead author, was published this week by PLoS Pathogens. The senior author is leading flu researcher Dr. Robert Webster, also of St. Jude.
"Genomic analysis of influenza viruses from our repository failed to provide evidence of influenza viruses with their whole genome originating from Eurasia," the report states. "However, we found occasional influenza viruses from North America with single or multiple genes that originated in Eurasia. Our interpretation is that while influenza viruses do exchange between the two hemispheres, this is a rare occurrence." The researchers say the highly pathogenic (HP) H5N1 virus has a better chance of reaching the western hemisphere via birds moved by humans than via wild birds. Nevertheless, careful surveillance of wild birds in the Americas should continue, they add.
Troops, Sheep-breeding Farm Pose Threat to Hangul
Greater Kashmir - www.greaterkashmir.com
23 Nov 2007
AS Wani
Area: Kashmir
One of the major threats to hangul, which is on the verge of extinction, in Dachigam National Park here is the government sheep-breeding farm as the overgrazing of summer habitats of hangul by its sheep has forced the endangered specie to move towards unprotected areas, experts said. Besides, they said, the presence of employees of other departments and troops of paramilitary CRPF for protection of a guest house meant for VIPs in the National Park hampers the movement of the hangul. According to experts, the sheep breeding farm spread over 100 hectares of hangul habitat area in lower Dachigam "poses an immediate threat to the long-term survival" of hangul in Dachigam and should be immediately shifted. "The sheep and goat belonging to this farm are let to graze in the alpine meadows of upper Dachigam (an ideal summer habitat for hangul) which may result in competition for food between deer and sheep.
Since both animals are herbivorous, this can lead to disease transmission to hangul as there is confirmed evidence of transmission of John's disease to hangul in Dachigam," states Dr Khursheed Ahmad in his recent study 'Aspects of Ecology of Hangul in Dachigam National Park.' "It is as such recommended that the sheep breeding farm which otherwise also as per norms of National Parks is an illegal act be immediately shifted from Dachigam," it adds. The study states that there has been a large-scale biotic interference in the summer hangul habitats of Upper Dachigam in the form of excessive overgrazing and habitat degeneration by the sheep and goat of the sheep breeding farm. "Also the livestock of local and nomadic (Bakerwal) shepherds and assorted biotic disturbance by people including staff of the sheep breeding farm which has resulted in heavy habitat degradation and hardening and erosion of the herb rich grounds of the hangul's summer habitats" the study states.
Alarming Number of Hunters Ignoring Parts Ban
The London Free Press - lfpress.ca
22 Nov 2007
Area: Ontario Canada
Hunters aren't getting the message about a disease that could threaten their own sport, Ontario wildlife officials said. More than half the hunters stopped during border checks at Sarnia and Windsor last weekend were transporting prohibited deer parts. Two years ago the province banned hunters from transporting internal organs, antlers with skin attached and hooves from deer killed outside Ontario.
Predator Versus Prey
Southwest Daily News - www.sulphurdailynews.com
22 Nov 2007
N Derouen
Area: United States
Hunting is known as a primary form of wildlife management. Without hunting, populations would rise to drastic numbers resulting in a decline of the wildlife's health and habitat. Overpopulation brings disease, starvation and destruction of the habitat in which the wildlife live. Almost every species of animals are hunted either for sport or a way of life.
This is one method that controls and manages wildlife populations. Another method, and probably the most effective is predation. (Predation is the act in which one organism kills another organism for the primary purpose of feeding.) Most hunters see wildlife predators as a nuisance and competition for valued animal resources. In reality, they are a vital part of our ecosystem. Predators help to maintain and/or control wildlife populations. This results in healthier game and a more productive habitat. Without predation, wildlife would eventually be plagued with disease and starvation.
OTHER WILDLIFE DISEASE RELATED NEWS
WILDLIFE DISEASE RELATED PUBLICATIONS
Isolation and Genetic Characterization of Avian Influenza Viruses and a
Newcastle Disease Virus from Wild Birds in Barbados: 2003-2004
[online abstract only]
Avian Dis. 2007 Sep; 51(3): 781-7
K Douglas et al.
Elk with a Long Incubation Prion Disease Phenotype Have a Unique PrPd
Profile
[online abstract only]
Neuroreport. 2007 Dec; 18(18): 1935-1938
K O'Rourke et al.
Discovery of a Novel Alveolate Pathogen Affecting Southern Leopard Frogs in
Georgia: Description of the Disease and Host Effects
[online abstract only]
EcoHealth. 2007 Sep; 4(3): 310-317
AK Davis et al.