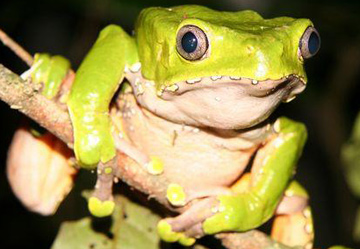 As amphibians leap toward extinction, alliance pushes "The Year of the Frog"
Mongabay.com - news.mongabay.com
31 Dec 2007
RA Butler
Photo courtesy of RA Butler

With amphibians experiencing dramatic die-offs in pristine habitats worldwide, an alliance of zoos, botanical gardens and aquariums has launched a desperate public appeal to raise funds for emergency conservation measures. Scientists say that without quick action, one-third to one-half the world's frogs, toads, salamanders, newts and caecilians could disappear. The coalition, dubbed "Amphibian Ark", is calling 2008 "The Year of the Frog" in an effort to raise awareness on the plight of dying amphibians, at least 165 types of which are believed to have gone extinct since 1980. Amphibian Ark is seeking to raise $50-60 million as part of a 5-year $400 million Amphibian Conservation Action Plan to establish captive breeding programs for the 500 most threatened species.

While scientists have yet to identify a smoking gun, climate change, pollution, and the emergence of Chytridiomycosis, a deadly and infectious fungal disease which has been linked to global warming and is blamed for one-third of amphibian extinctions since 1980, are the leading suspects for the observed decline. Although researchers don't yet know the origin of the parasitic chytrid fungus known as Batrachochytrium dendrobatidis, the disease is highly transmissible and spreading fast: the fungus is now found on at least four continents and was recently reported for the first time in Japan. Worryingly scientists are also finding declines in chytridiomycosis-free environments. In fact, some researchers suggest the outbreak of chytridiomycosis is merely a symptom of a much broader problem for amphibians, one that may be linked to climate change, increased UV radiation, or pesticide use.



Poison Island
On Line Opinion - www.onlineopinion.com.au
02 Jan 2008
D Obendorf
Area: Tasmania Australia
Tasmania continues its use of 1080 poison baits to "eradicate" foxes. On the State Government's own data, in the last five years, more than 140,000 of these poison baits have been laid across various lands where the authorities believe foxes might exist. Three Tasmanians have each offered $1,000 fox rewards (Tasmanian Times: "$1,000 fox reward"). All remain unclaimed despite farmers, landowners and professional shooters all knowing about them. And yet the government "guessimate" claims there are up to 400 foxes living in Tasmania … somewhere. Animals known to dig up and take these poison meat baits include Tasmanian devils, quolls and feral cats. Just recently the Tasmanian devil has been upgraded from "vulnerable" to "endangered" as the infectious cancer causes this species to continue to decline.
The next largest carnivorous marsupial - the spotted-tail quoll - is also listed as a threatened species in Tasmania and in every mainland Australian state and Territory where it is known to exist (Queensland, New South Wales, Victoria and the ACT). In my opinion Tasmania's use of 1080 poison over the last five decades - to kill browsing and grazing native herbivores - has had a significant effect on the over-population followed by the facial tumour disease-crash in devil numbers and in the widespread establishment of feral cats across the island. Ironically the state government has now ceased the use of 1080-laced carrot/apple baits on public lands to kill grazing wildlife but now uses tens of thousands of meat baits in public forests where they claim they are targeting those cryptic foxes. Spotted-tail quolls in mainland forests are showing signs of decline.
Fish die off in Lake Shipp in Orlando area
Orlando Sentinel - www.orlandosentinel.com
01 Jan 2008
K Kelly
Area: Florida United States
Tens of thousands of fish have suffocated in one of Central Florida's most popular recreational lakes, and officials say the die-off could continue indefinitely or happen in other area lakes. The weekend fish kill on Lake Shipp in Winter Haven was caused by low levels of oxygen. The lake is popular with boaters, personal-watercraft riders and anglers. "This is one that we would more commonly see in summer, but weather conditions are just right for it," said Florida Fish and Wildlife Conservation Commission regional fisheries biologist Paul Thomas. "If the lake were a stew pot, it's been set on low for a very long time."
Low water levels, warm weather and gray skies all have contributed to algae in the lake using oxygen faster than it's being produced, officials said. Plants create oxygen during the photosynthesis process, which requires sunlight, and use up oxygen during their "respiration" process, typically at dark or during overcast conditions. When commission officials measured the lake oxygen level, it was about half of normal levels at one of the canal entrances, said commission spokesman Gary Morse. Area residents noticed that fish began dying Friday and continued en masse Saturday. On Monday, the fish were creating a rancid smell in some areas.
Red alert over release of 250 grey squirrels
The Scotsman - news.scotsman.com
02 Jan 2008
I Johnston
Area: England United Kingdom
Government is encouraging the spread of grey squirrels in England, say worried campaigners. In Scotland, they are treated as an invading enemy – hunted down and killed to save our native red squirrels from extinction. But, to the horror of campaigners for the reds, the government has licensed the release of more than 250 grey squirrels, which are originally from north America, back into the wild in England. Now the European Squirrel Initiative (ESI), which obtained the figures, is warning the red "will soon become extinct in Britain" if its fate is left in the hands of government and calling for a volunteer army of "grey squirrel control groups" to be set up by country people.
However animal rights groups said if it was acceptable to release grey squirrels in England, the authorities should look at transporting – rather than killing – those caught in Scotland in order to "save the pointless killing of a perfectly healthy wild animal". According to the Wildlife and Countryside Act, non-native, invasive species should not be released into the wild but this can be done if a licence is issued by the relevant authority, which is Natural England south of the Border. Andrew Kendall, of the European Squirrel Initiative, said: "We've got a government agency whose job it is to protect the biodiversity of our countryside and what are they doing? "What they are doing is seemingly making a political judgment, not a scientific judgement."
Prevention is the only defense for VHS, the latest disease attacking fish
The Daily Sentinel - www.gjsentinel.com
01 Jan 2008
D Buchanan
So it's Happy New Year and by the way, did you know VHS can kill at least 40 species of fish and 20 of those species live in Colorado? VHS, or viral hemorrhagic septicemia in its long form, is, as its name implies, a virus that attacks freshwater and saltwater fish with apparent impunity. Common in trout hatcheries in Europe and suspected to cause die-offs of Pacific salmon in the Northwest, the disease appeared in 2006 in the Great Lakes in a form not before seen. It hasn't been found in Colorado nor any of the adjacent states, but if it's anything like zebra snails, which recently were found in Pueblo Reservoir, the disease likely can travel faster than prevention can stop it.
And being a virus, the only treatment is prevention, said state fisheries manager Greg Gerlich in a presentation last month to the Colorado Wildlife Commission. It's on the radar, he said, meaning the state and Colorado's private aquaculture industry is doing everything possible to prevent the disease from entering the state. Google viral hemorrhagic septicemia and you'll get more than 42,000 hits, a sure sign that someone somewhere is interested in the disease's progression. According to the U.S. Department of Agriculture, an apparently new strain of VHS in the Great Lakes region has caused reported die-offs in muskellunge, smallmouth bass, northern pike, freshwater drum, gizzard shad, yellow perch, black crappie, blue-gill, rock bass, white bass, redhorse sucker, bluntnose sucker, round goby and walleye.
OTHER WILDLIFE DISEASE RELATED NEWS
WILDLIFE DISEASE RELATED PUBLICATIONS
Detection of PrP**CWD in retinal tissues in white-tailed deer (Odocoileus virginianus) and Rocky Mountain elk (Cervus elaphus nelsoni) with CWD [online abstract only]
USDA Agricultural Research Service
T Spraker et al.
A species barrier limits transmission of chronic wasting disease to mink (Mustela vison) [online abstract only]
USDA Agricultural Research Service
R Harrington et al.
Highly Pathogenic Avian Influenza H5N1 - Poland [pdf]
APHIS CEI Impact Worksheet - 28 Dec 2007