TOP STORIES


Foreign pets in wadis pose serious risk to local wildlife
Gulf News - www.gulfnews.com
22 May 2008
E Landais
Area: United Arab Emirates

Releasing pets into the wild after they have grown too big for their owners has dire effects on the biodiversity of the UAE's endemic wadis. Species of African fish or terrapins from Florida have been found in a wadi in Fujairah, which has alarmed environmentalists as the damage caused by these pets could be far greater than initially estimated. Viruses like salmonella can easily be spread if nothing is done to eradicate certain invasive species from a habitat that is not their own, said Christophe Tourenq, science and research manager of the Emirates Wildlife Society-WWF. Today is World Biodiversity Day, a United Nations awareness day held every year on May 22.

Tilapia fish, usually introduced to eat mosquito larvae, have been seen in wadi Wurrayah in Fujairah, an area currently awaiting federal protection by decree. A red-eared slider, or terrapin, was also found by researcher Emma Smart from the Wadi Fish Project. "Predators or diseases that keep invasive species under control in their own habitat often don't exist in foreign habitats, which is why they flourish. "Tilapia have probably been introduced by weekenders to give themselves something to fish," said Smart.



**Note: The salmonella disease agent listed
in this article
as "viral" is incorrect. The correct disease agent should be "bacterial".
Anthrax, elephant - India: (West Bengal) - Archive Number 20080521.1680
ProMED-mail - www.promedmail.org
21 May 2008
Area: West Bengal India
An elephant died of anthrax in Noam Range under Kalimpong forest division recently. Its body was recovered on Sunday [18 May 2008] and the examination of its blood sample confirmed that the pachyderm had died of anthrax. The forest department has started a thorough screening of the forests in North Bengal to find out whether any other elephants have died recently.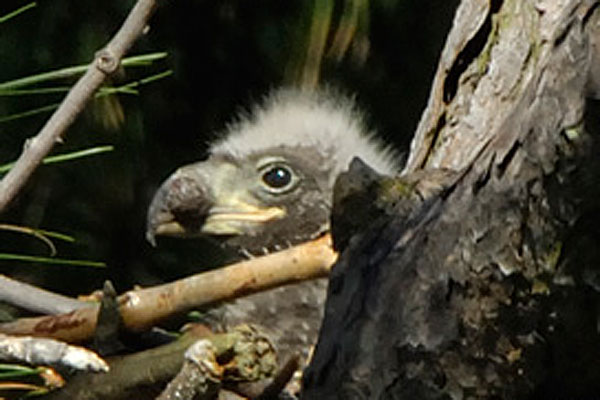 Doctor to check Norfolk Botanical Garden's baby eagle today
The Virginian-Pilot - hamptonroads.com
22 May 2008
S Stone
Photo courtesy of James Deal/Norfolk Botanical Garden
Area: Virginia United States
The lone eaglet in the nest at Norfolk Botanical Garden has an appointment with the doctor today, and viewers of the popular "Eagle Cam" will be able to watch as it is retrieved from the nest. A few days ago, observers spotted what appeared to be a growth on the eaglet's bill. As a result, a wildlife veterinarian from the Department of Game and Inland Fisheries wants to take a closer look to determine the type of growth. A local tree climber from Nuckols Tree Care Service will retrieve the month-old eaglet from the nest this morning, Amy Dagnall, a Garden spokeswoman, said Wednesday.
. . . "The growth, located on the left side of the eagle's upper mandible, has grown quickly and is now quite visible," said Stephen Living, 37, a wildlife biologist with the Virginia Department of Game and Inland Fisheries. It may indicate the presence of Avian Pox, he said, although this cannot be confirmed without examination and further diagnostics, such as a biopsy. The Eagle Cam will not show the actual biopsy, which involves taking a small sample of the affected tissue. Avian Pox is a viral disease that is contracted by any number of birds. It poses no threat to humans.
OTHER WILDLIFE HEALTH RELATED NEWS
Photo courtesy of BBC News