TOP STORIES


Bird Population Declines In Northern Europe Explained By Thiamine (vitamin B1) Deficiency
Science Daily - www.sciencedaily.com
14 Jul 2009
Location: Baltic Sea, Europe - Map It




Wild birds of several species are dying in large numbers from a paralytic disease with hitherto unknown cause in the Baltic Sea area. A research team at Stockholm University, Sweden, led by Associate Professor Lennart Balk, has demonstrated strong relationships between this disease, breeding failure, and advanced thiamine (vitamin B1) deficiency in eggs, young, and adults.

. . . The authors' primary aim has been to demonstrate the relationship between the paralytic disease and thiamine deficiency. Also important has been to form an idea about the geographical distribution of the thiamine deficiency syndrome and its distribution among species. Advanced thiamine deficiency was demonstrated in the Baltic Sea area, but incipient thiamine deficiency was found also in Iceland.


First remote, underwater detection of harmful algae, toxins
Science Daily - www.sciencedaily.com
14 Jul 2009
Scientists at NOAA's National Centers for Coastal Ocean Science and the Monterey Bay Aquarium Research Institute (MBARI) have successfully conducted the first remote detection of a harmful algal species and its toxin below the ocean's surface. The achievement was recently reported in the June issue of Oceanography.
This achievement represents a significant milestone in NOAA's effort to monitor the type and toxicity of harmful algal blooms (HABs). HABs are considered to be increasing not only in their global distribution, but also in the frequency, duration, and severity of their effects. HABs damage coastal ecosystem health and pose threats to humans as well as marine life. Climate change is expected to exacerbate this trend, since many critical processes that govern HABs dynamics, such as water temperature and ocean circulation, are influenced by climate.
C. Scholin et al. Remote Detection of Marine Microbes, Small Invertebrates, Harmful Algae, and Biotoxins using the Environmental Sample Processor (ESP). Oceanography. 2009 Jun; 22(2) [no abstract]

First animal case of West Nile found in Alamo: Dead scrub jay tests positive for virus
Danville Weekly News - www.danvilleweekly.com
14 Jul 2009
G Gillette
Location: Alamo, California, USA -
Map It
Contra Costa County health officials are keeping an eye out on reported bird deaths, following the first confirmed case of West Nile virus. A dead Western scrub jay found in Alamo in late June has tested positive for the virus.
Contra Costa Mosquito and Vector Control District Public Affairs Director Deborah Bass said that they received the report on June 28. Bass said initially the bird tested negative for the virus, but standard procedure is to recheck any negative reading with an outside agency. In this case, the check showed a positive reading for West Nile. The case was confirmed July 8.
The bird death is the first documented case of West Nile found in the county so far in 2009. She said that her office has received nearly 600 reports of dead birds so far this year. Of those, 79 have been brought in for testing, with only one positive result.
More West Nile Virus News
More Birds Test Positive for West Nile Virus
[California, USA -
Map It
]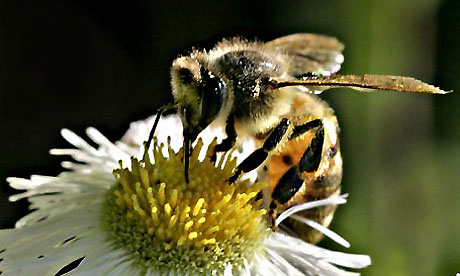 Honeybee research funding must increase, MPs warn
The Guardian - www.guardian.co.uk
14 Jul 2009
A Vaughan
The government must fund more research into the alarming decline of honey bees, an influential committee of MPs said today.
The cross-party public accounts committee said that the honeybee's role in pollinating crops is worth £200m to the agricultural economy but that colonies were declining at an "alarming" rate. It is concerned that the Department for Environment, Food and Rural Affairs risked "diluting" funding for research into the problem.
Government figures show honeybee numbers have fallen by 10-15% in the last two years, but a survey by the British Beekeepers Association (BBA) suggested as many as one in three of the UK's 240-250,000 colonies did not survive the winter and spring of 2008.
OTHER WILDLIFE HEALTH RELATED NEWS
Photo courtesy of Science Daily
Bovine Tuberculosis News
Interesting and/or Good News
WILDLIFE HEALTH RELATED PUBLICATIONS
Browse complete Digest publication library
here
.
Colony Collapse Disorder Progress Report 2009
[pdf]
Ultraviolet-ozone treatment reduces levels of disease-associated prion protein and prion infectivity
BMC Res Notes. 2009 Jul 6;2(1):121. [Epub ahead of print]
CJ Johnson et al.

Immunogenicity and Safety of Recombinant Rabies Viruses Used for Oral Vaccination of Stray Dogs and Wildlife
Zoonoses Public Health. 2009 May 20. [Epub ahead of print]
M Faber et al.
Avian Diseases - Ahead of Print Articles
Highly pathogenic avian influenza virus subtype H5N1 in Mute swans (Cygnus olor) in the Central Bosnia
Low Pathogenicity Avian Influenza Subtypes Isolated from Wild Birds in the United States, 2006-2008
Single and Combination Diagnostic Test Efficiency and Cost Analysis for Detection and Isolation of Avian Influenza Virus from Wild Bird Cloacal Swabs
Migratory status is not related to the susceptibility to HPAIV H5N1 in an insectivorous passerine species
PLoS One. 2008 Jul 9;4(7):e6170
D Kalthoff et al.
Survival of Avian H5N1 Influenza a Viruses in Calliphora nigribarbis (Diptera: Calliphoridae)
Journal of Medical Entomology 46(4):852-855. 2009
K Sawabe et al