TOP STORIES

Birds rescued after Manchester Ship Canal oil spill


RSPCA officers are attempting to catch geese and ducks covered in oil after a spill on the Manchester Ship Canal.

About 12 birds have been covered in the substance and will not survive unless they are cleaned up, the charity said.

An Environment Agency investigation is under way into the source of the spill at an industrial site near Eccles, which was reported on Tuesday.


BBC News - news.bbc.co.uk
20 January 2010
Photo courtesy of BBC News
Location: Eccles, England, United Kingdom - Map It
Cold snap killing fish at alarming rate
Waters all around Florida are about to get very stinky the next few days as hundreds of thousands of fish killed by the recent and extended cold weather begin to decompose and float to the surface.
From the Panhandle to the Keys, from the Gold Coast north to the First Coast, anglers and fisheries scientists venturing out into chilly bays, estuaries, rivers, canals, and even the open ocean, are finding dead and stunned fish in a wide range of sizes and species — freshwater and saltwater. And this is just the beginning, experts say.
. . . "The magnitude of this is unbelievable. It's really dismal and sad to see."
The Miami Herald - www.miamibostonherald.com
20 January 2010
S Cocking
Photo credit: AP
Location: Florida, USA - Map It
Bee decline linked to falling biodiversity
The decline of honeybees seen in many countries may be caused by reduced plant diversity, research suggests.
Bees fed pollen from a range of plants showed signs of having a healthier immune system than those eating pollen from a single type, scientists found.
Writing in the journal Biology Letters, the French team says that bees need a fully functional immune system in order to sterilise food for the colony.
BBC News - news.bbc.co.uk
20 January 2010
R Black
Photo courtesy of BBC News
Master's project examines how government incentives are driving corn ethanol expansion, impacting wildlife
A University of Michigan study released today shows how government incentives for corn ethanol are driving farmers to shift land into corn production, resulting in significant decreases in grassland bird populations throughout the fragile Prairie Pothole Region.
. . . When researchers analyzed the relationship between corn plantings and grassland bird populations, the results showed that counties with high increases in corn plantings had significant declines of nearly 30 percent in populations of sensitive grassland birds between 2005 and 2008.
"Grassland birds were already in steep decline, making this additional habitat loss quite alarming," says Gary Botzek, executive director at the Minnesota Conservation Federation.
University of Michigan School of Natural Resources and Environment - www.snre.umich.edu/newsroom
13 January 2010
Photo courtesy of University of Michigan School of Natural Resources and Environment

OTHER WILDLIFE HEALTH RELATED NEWS
Threatened Wildlife Habitat
New Species Discoveries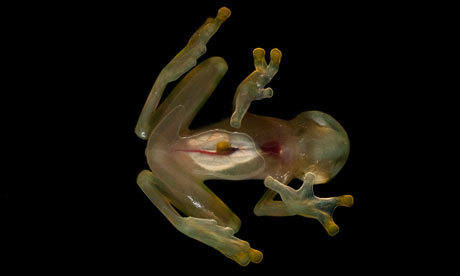 Photo credit: P Hamilton/RAEI
It Ain't All Bad News
WILDLIFE HEALTH RELATED PUBLICATIONS
Browse complete Digest publication library
here
.
Veterinary Pathology - January Issue
Vol 47, Issue 1
Journal of Wildlife Management - January 2010
Vol 74, Issue 1
CCWHC - Wildlife Health Centre Newsletter - Winter 2009
Vol 14, Number 2 [free full-text pdf available]
Increased risk of chronic wasting disease in Rocky Mountain elk associated with decreased magnesium and increased manganese in brain tissue
Canadian Journal of Veterinary Research. 2010; [Epub ahead of print]
SN White et al.
Bighorn sheep fetal lung cell line for detection of respiratory viruses
Canadian Journal of Veterinary Research. 2010; [Epub ahead of print]
S Shanthalingam et al.
Diseases of Aquatic Organisms - December 2009
Vol 88, Number 1