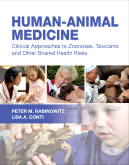 Human-Animal Medicine - Clinical Approaches to Zoonoses, Toxicants and Other Shared Health Risks

By Peter M. Rabinowitz, MD, MPH and Lisa A. Conti, DVM, MPH, DACVPM, CEHP


Publisher Description

Human-Animal Medicine is an innovative reference exploring the unprecedented convergence of human, animal, and environmental health, triggering global pandemics and requiring new clinical paradigms. The "One Health" approach calls for greater communication and cooperation between human health care providers, public health professionals, and veterinarians to better address vital issues of emerging diseases and environmental change.

This incredibly timely book provides, for the first time, practical guidelines for "One Health" collaborations in a wide range of clinical human-animal health issues, including the H1N1 virus, zoonotic diseases, the human-animal bond, animal allergy, bites and stings, and animals as "sentinels" for toxic environmental health hazards.



What Essential Resource Should Every Wildlife Professional Know About?
Know of a invaluable resource (e.g. manual, website, online database) that every wildlife professional should be aware of? Send the title and a link (if available) to this indispensable resource to us at wdin@usgs.gov, and we will share it with your colleagues on the Digest. In a less-than-two-minute email you can pass on your knowledge and help a fellow wildlife professional.