TOP STORIES

DEC investigates report of 'fish kill' on Skaneateles Lake

The state Department of Environmental Conservation is investigating a report of a "fish kill" on Skaneateles Lake.

An unnamed property owner called the DEC Tuesday, noting an appreciable number of mostly dead rock bass, along with a few bass and perch, on the bottom of the lake at its northern end. More than two dozen dead fish could be seen from the Skaneateles village pier.


Syracuse.com - blog.syracuse.com
18 May 2010
D Figura
Location: New York, USA - Map It
ProMed - White nose syndrome, bats update
In this update:
[1] Oklahoma
[2] Oklahoma
[3] Missouri
__________________________________________________________________
[1] Oklahoma
Date: 14 May 2010
From: Richard Stark
A cave myotis _Myotis velifer_ collected from the James Selman Cave system in Woodward County, Oklahoma, has tested POSITIVE for_Geomyces destructans_. _G. destructans_ is the fungus associated with white-nose syndrome. Anne Ballman, a Wildlife Disease Specialist with the USGS National Wildlife Health Center in Madison, WI just called to notify me. The bat was collected by a graduate student
working for the Oklahoma Biological Survey on 3 May 2010.
ProMed - www.promedmail.org
18 May 2010
Forwarded to ProMED by Angie McIntire of Arizona Game & Fish Department

Brigantine seal stranding center very busy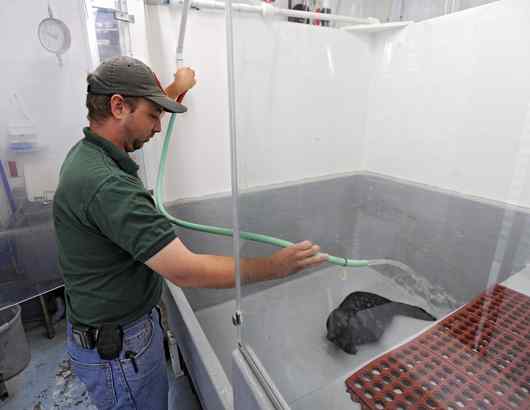 The place has looked like an overbooked hotel for seals - or more precisely, a hospital with few empty beds.
Since January, the Marine Mammal Stranding Center has rescued about 100 harp, harbor, and gray seals at the Jersey Shore - double the usual number.
"We've just never seen this many over the course of one winter," said Sheila Dean, the center's codirector. "It isn't just seals, it's other animals, too - like the whale that was found on the beach [in Mantoloking, Ocean County] and brought in last week."
The Philadelphia Inquirer - www.philly.com
19 May 2010
JL Urgo
Photo credit: Clem Murray/ Inquirer Staff

OTHER WILDLIFE HEALTH RELATED NEWS
Huh, That's Interesting!
WILDLIFE HEALTH RELATED PUBLICATIONS
Browse complete Digest publication library
here
.
Diseases of Aquatic Organism - April and May 2010
Volume 89, Number 3
Volume 90, Number 1
Journal of Veterinary Diagnostic Investigation
-
May 2010
Volume 22, Issue 3
Southeastern Cooperative Wildlife Disease Study Briefs
- April 2010
Volume 26, Number 1
Veterinary Parasitology
-
May 2010
Volume 170, Issues 1-2
The Wildlifer Issue
- April 2010
Issue 361