TOP STORIES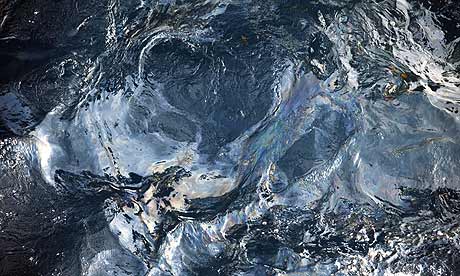 Submerged oil plumes suggest gulf spill is worse than BP claims

Ocean scientists in the Gulf of Mexico have found giant plumes of oil coagulating at up to 1,300 metres below the surface, raising fears that the BP oil spill may be larger than thought – and that it might create huge "dead zones".

Members of the National Institute for Undersea Science and Technology have been traversing the area around the scene of the Deepwater Horizon, the rig that exploded and sank on 20 April.

Using the latest sampling techniques, they have identified plumes up to 20 miles away from the Deepwater Horizon well head that continues to spew oil into the water at a rate of at least 790,000 litres a day.


Reported Wildlife Mortality Events to the USGS National Wildlife Health Center Updated
USGS and a network of partners across the country work on documenting wildlife mortality events in order to provide timely and accurate information on locations, species and causes of death. This information was updated on May 11, 2010 on the USGS National Wildlife Health Center web page, New and Ongoing Wildlife Mortality Events Nationwide. Quarterly Mortality Reports are also available from this page. These reports go back to 1995.
OTHER WILDLIFE HEALTH RELATED NEWS
Photo credit:
Mail Online

WILDLIFE HEALTH RELATED PUBLICATIONS
Browse complete Digest publication library
here
.
Detection of Low Pathogenic Avian Influenza Viruses in Wild Birds in Castilla-La Mancha (South Central Spain)
Veterinary Microbiology. 2010; [Epub ahead of print]
E Pérez-Ramírez et al.
Wild Bird's-eye View of Influenza Virus A(H1N1) Phylogenetic Evolution
EcoHealth. 2010; [Epub ahead of print]
AJ Piaggio et al.
Veterinary Pathology
- May Issue
Volume 47, Number 3
Toxicity of non-steroidal anti-inflammatory drugs to Gyps vultures: a new threat from ketoprofen
Biology Letters. 2010 Jun; 6(3): 339-341
V Naidoo et al.
Influence of genetic relatedness and spatial proximity on chronic wasting disease infection among female white-tailed dee
r
Journal of Applied Ecology. 2010; 47(3): 532 - 540
DA Grear et al.
Prions are secreted into the oral cavity in sheep with preclinical scrapie
J Infect Dis. 2010 Jun 1;201(11):1672-6.
BC Maddison et al.