TOP STORIES

Fish Kill at Stonewall Jackson Lake has Strange Characteristics

Biologist with the West Virginia DNR say it's hard to say at this point what has caused more than a thousand fish to die over the last four days at Stonewall Jackson Lake.

The DNR got a call from an angler fishing in the Jacksonville area of the lake about seeing several dead fish.

. . . The unusual part of the incident is that 99-percent are crappie.


MetroNews - www.wvmetronews.com
27 May 2010
Location: Stonewall Jackson Lake, Georgia, USA - Map It
>>> Pymatuning fish kill brings consumption warning; LECBA fights Lake Erie dredge dumping: Outdoor Notebook
[Pymatuning Reservoir, Pennsylvania, USA -
Map It
]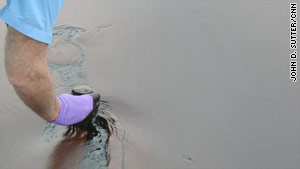 Second Massive Oil Plume Found; Scientists Fear for Gulf Marine Life
Marine scientists have found another giant plume deep beneath the Gulf's surface believed to be oil and stretching 22 miles northeast from BP's gushing wellhead.
The thick mass is headed toward an underwater canyon whose currents feed marine life in the waters off Florida.
Scientists fear these oil clouds will create giant dead zones in the Gulf by suffocating large marine life and poisoning tiny creatures at the bottom of the food chain.
Courthouse News Service - www.courthousenews.com
28 May 2010
S Canfield
Photo credit: J Sutter/CNN
New Model for Chronic Wasting Disease
A group led by Dr. Edward Hoover at Colorado State University, Fort Collins, CO have generated a mouse model of cervid chronic wasting disease.
. . . Using a mouse model of chronic wasting disease that expresses cervid prion protein (PrP), Seelig et al examined the susceptibility, pathogenesis, and transmission of cervid chronic wasting disease. They found that cervid PrP
C
(protease-sensitive PrP) was expressed in a number of different tissues, including lymphoid, nervous, hematopoietic, endocrine, and certain epithelial tissues, in this model.
Additionally, disease could be transferred by various infectious methods, including injection into the brain, blood stream, and gut.
Science Daily - www.sciencedaily.com
27 May 2010
TOP READ LINKS FROM LAST WEEK
News
Journal Publications
The Wildlifer Issue

- April 2010

Issue 361
OTHER WILDLIFE HEALTH RELATED NEWS
Photo credit: I Shpilenok/Wild Wonders
Huh, That's Interesting!
It Ain't All Bad News