TOP STORIES

Oil Devastation Found at Major Gulf Breeding Site

The documentary and research team, led by biologist and multimedia producer Marc Dantzker, first visited Raccoon Island on Louisiana's Gulf Coast on June 18, 2010, and found one of the largest waterbird colonies in the state to be oil free and in excellent health.

The team returned July 11 and 12 after hearing reports from local biologists of significant oil landfall with impact to birds.

The team found oil present on rocks and all along the beaches. Almost all of the juvenile brown pelicans they saw had at least some oil on them, and they estimated that roughly 10 percent were "badly oiled." Roughly forty percent of juvenile terns also had visible oil on them.


ScienceDaily - www.sciencedaily.com (Source: Cornell University)
22 Jul 2010
Location: Isle Dernière, Terrebonne Parish, Louisiana, USA - Map It
>>>FULL ARTICLE
Related News
>>>Vet Teaching Techniques For Rescuing Oiled Wildlife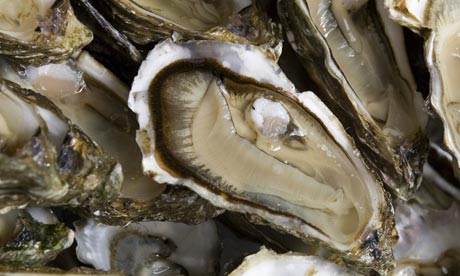 Herpes virus wipes out millions of Kent oysters
Fisheries inspectors have banned the movement of oysters from parts of Kent after an outbreak of herpes devastated stocks at a shellfish farm in Whitstable.
More than 8 million oysters are estimated to have been wiped out by the virus at Seasalter Shellfish in the town, a spokesman for the fish health inspectorate said.
A containment area covering the Swale, the Thames and the north Kent coast has been established to prevent the virus spreading, but inspectors fear wild oysters are already infected, making it nearly impossible to eradicate the disease completely.
Guardian News - www.guardian.co.uk
23 Jul 2010
I Sample
Photo credit: Olivier Pon/Corbis
Location: Whitstable, Kent County, England, UK - Map It
>>>FULL ARTICLE
Monkey heads, rats trigger probe of West Side store
Federal authorities are investigating a West Side store that received a shipment of monkey heads and two dozen dead cane rats in a rare criminal inquiry into what experts say is a robust but underground business: illegally smuggling meat to Chicago residents hungry for a taste from their African homelands.
Fish and Wildlife Service agents raided African Art and Objects in the Austin community last month, carting off animal carcasses, at least one chimpanzee head, ivory beads and computers.
Customers wishing to enter the store, which stocks African art, incense and soap, first must ring a doorbell.
Chicago Tribune - articles.chicagotribune.com
25 Jul 2010
S Schmadeke
>>>FULL ARTICLE
Huh, That's Interesting!