TOP STORIES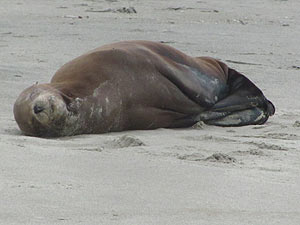 Lounging Sea Lion On Central Oregon Coast May Be Sick
A California sea lion has been resting on a beach at Lincoln City for three days, and it has officials a little concerned.
The sea lion - a male juvenile, the equivalent of a teen – appears to be rather sickly.
. . . "We're kind of concerned about him because he's thin and underweight," Holbrook said. "And the fact he's been here for so long."
BeachConnection.net - www.beachconnection.net
15 Oct 2010
Photo courtesy of BeachConnection.net
Location: Lincoln City, California, USA - Map It
Killer whales believed to be driving sea otters to perilously low levels in southwest Alaska
. . . The U.S. Fish and Wildlife Service's recovery plan for sea otters considered a slew of possible reasons for why the animals are in steep decline.
The report says there is only one threat considered to have high importance, and that's predation by killer whales.
Nearly all other factors, including climate change and impacts from humans, were considered to have low importance.
Google News - www.google.com/hostednews [Source: The Canadian Press]
M Pemberton
15 Oct 2010
Report: Many Birds Still Face Threats From Gulf Oil
. . . It's been nearly six months now since the Deepwater Horizon explosion in the Gulf of Mexico.
The BP well was capped but not before more than four million barrels of oil spewed into the Gulf.
Today, the National Audubon Society releases a report, saying residual oil and chemicals pose substantial ongoing risk to bird population in the Gulf, which Audubon calls Grand Central Station for tens of millions of migrating birds.
National Public Radio - www.npr.org
13 Oct 2010
Another Gulf Oil Spill Update
OTHER WILDLIFE HEALTH RELATED NEWS
Photo credit: Z Neufville/IPS
Rabies
Coral Reefs