TOP STORIES

Chlamydia And Climate Change Killing Koalas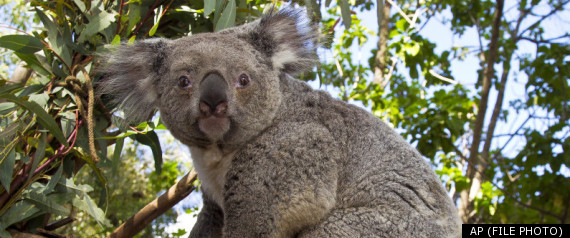 The koalas are disappearing. Fast. ...The problem is getting so bad that in some places in Australia the population has been reduced to 20% of what it once was.

But what's killing the koala is a bit surprising. While climate change and urban development have perhaps had the biggest impact on the animal, a third factor is also pushing it towards extinction, according to the Telegraph -- chlamydia.

The bacterial infection, which is commonly known as a sexually transmitted disease among humans, has been decimating the koala population. Some estimates say koalas could go extinct in less than 30 years, according to the Telegraph.


Huffpost Green - www.huffingtonpost.com
14 Jun 2011

D Praetorius

Photo courtesy of Huffpost Green
NI red squirrels face second outbreak of fatal pox
A second outbreak of a fatal red squirrel disease has been confirmed in Glenarm Forest in County Antrim. It follows an outbreak of squirrel pox in County Down three months ago.
The disease is carried by the non-native grey squirrel which is immune to its effects. Infected red squirrels die within 15 days of contracting the virus. The disease has already had a devastating effect on native red squirrel populations across the UK.
... "The previous outbreak was three months ago and over 80 miles away in County Down," he said.
... "We will urgently begin work with the adjacent landowner Antrim Estates, the Glens Red Squirrel Group and the other partners within the Northern Ireland Squirrel Forum to implement control measures to safeguard the local red squirrel population at Glenarm."
BBC News - www.bbc.co.uk
17 Jun 2011
Photo courtesy of BBC News
Location: Northern Ireland - Map It
Study finds golden algae responsible for killing millions of fish less toxic in sunlight
A new Baylor University study has found that sunlight decreases the toxicity of golden algae, which kills millions of fish in the southern United States every year.
While golden algae is primarily a coastal species, it has been found in Texas rivers and lakes, including Lake Whitney and Lake Waco in Central Texas, and Lake Granbury in North Texas. Experts believe that several environmental factors influence toxin production, but new research from Baylor scientists shows that sunlight is a key component in the magnitude and duration of the toxicity of the algae to fish. Specifically, the study found that the longer golden algae toxins are exposed to natural sunlight, the less toxic the algal toxin becomes to fish and other aquatic organisms.
EurekAlert - www.eurekalert.org
15 Jun 2011

Wildlife vets call for lead shot ban
Massey University wildlife veterinarians are calling for a total ban on the use of lead shot in hunting, saying it is having a detrimental effect on many native species.
Dr Kerri Morgan said the Wildlife Health Centre is treating a growing number of native species, some of them endangered, with elevated lead levels.
Lead shot is currently banned within 200 metres of a waterway, but Morgan said its presence elsewhere makes it hard to keep out of the food chain.
"For a number of years we've seen harrier hawks with clenched claw paralysis, which is associated with lead toxicity," she said.
Television New Zealand - TVNZ.co.nz
17 Jun 2011
Location: News Zealand
Hidden value of nature revealed in groundbreaking study
The true value of nature can be shown for the very first time thanks to groundbreaking research by hundreds of UK scientists.
The research forms the basis of a major new independent report – the UK National Ecosystem Assessment (UK NEA) – which reveals that nature is worth billions of pounds to the UK economy. The report strengthens the arguments for protecting and enhancing the environment and will be used by the government to direct policy in future.
The UK NEA has used new approaches to estimate the value of the natural world by taking account of the economic, health and social benefits we get from nature.
While in the past people may have thought that caring for the environment meant extra financial burdens, the UK NEA shows that there are real economic reasons for looking after nature. The NEA also shows that the benefits we get to our health, well being and from the enjoyment of nature have not always been fully appreciated or valued.
DEFRA - www.defra.gov.uk/news
02 Jun 2011
OTHER WILDLIFE HEALTH RELATED NEWS
Photo courtesy of The Guardian -
Week in Wildlife
It Ain't All Bad