TOP STORIES

Whales 'at threat from Russia's oil boom'
Sonic blasts used in oil exploration pose a mounting threat to whales, especially a critically endangered species that feeds and breeds near Russia's Sakhalin Island, the global whaling forum has heard. Britain and the United States voiced fears that plans to build a third oil and gas platform near the Pacific island could affect a species called the Western gray whale, delegates at the International Whaling Commission (IWC) meeting said.
"The United Kingdom is deeply concerned that ongoing industrial activities around Sakhalin Island continue to pose a threat" to the whale population, said junior environment minister Richard Benyon. Belgium said 12 countries had written to Moscow, urging it to pressure the Sakhalin Energy Investment Corporation to postpone an upcoming seismic survey.
… Shockwaves can disrupt the ability of whales to feed or communicate and -- if the sea mammals are too close -- cause tissue damage, scientists say.
Beaches littered with dead birds after stormy weather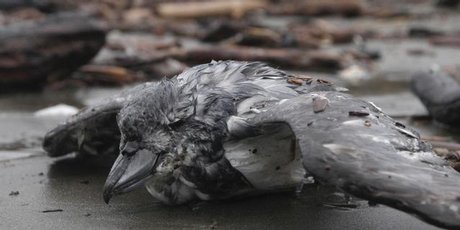 Beachgoers on the west coast of the lower North Island have been met with the sight of hundreds of dead birds, which perished after being blown ashore by stormy weather. Peter McCallum, the manager of the Kapiti branch of the Wellington SPCA, said they were caring for about 250 exhausted broad-billed prions, the first influx of which came in on Monday.
Volunteers sent yesterday to Waikanae beach, north of Wellington, found hundreds of dead birds along the coast.
"They reported seeing numerous birds in the surf, in the surf line, and on the high tide mark. Literally hundreds of dead birds."
Mr McCallum had never seen anything like the number of dead birds in his 20 years in the area. "I'm suspecting that there was a big feeding group in one particular area and they've just been caught up in this wind stream." He said he expected to have more than 300 birds by today, and hoped about 70 per cent of those could be saved.
Sri Lanka to count its elephants for first time
The head of the Wildlife Department, Chandrawansa Pathiraja, said the census will run over two days starting on the full moon of next month, which falls on Aug. 13. Elephants will be counted as they come to drink from water holes, reservoirs and tanks.
With the survey, Pathiraja said he hopes to find out the minimum number of elephants, distribution of the population and the composition of herds, including males, females, babies and tuskers.
.... Around 250 elephants are killed every year, mostly by farmers. About 50 people are killed in elephant attacks each year too. The only count available now dates back a century when an estimated 10,000 to 15,000 elephants roamed wild in Sri Lanka. But habitat loss and poaching are believed to have roughly halved their numbers.
OTHER WILDLIFE HEALTH-RELATED NEWS
It Ain't All Bad NewsClimate ChangeWhite-Nose Syndrome