TOP STORIES

Kiwi research to prevent and treat disease

New research by a Wildbase Hospital veterinarian will help combat the parasitic disease coccidiosis that affects kiwi in captivity. This comes as Wildbase announces a major ten-year partnership with Shell New Zealand that will significantly improve conservation outcomes for New Zealand.

Massey University wildlife veterinarian Kerri Morgan has learned valuable information about the parasite's biology and how it interacts with kiwi that will now directly affect the conservation management of the species. The parasite infects the gastrointestinal and renal system and can result in death.

"We see and treat quite a few cases of coccidiosis at Wildbase and we recognised it was a major health problem in the conservation management of kiwi," Ms Morgan says.


Massey University News - www.massey.ac.nz
25 Jan 2013
Common pesticides 'can kill frogs within an hour'
New research suggests the chemicals are playing a significant and previously unknown role in the global decline of amphibians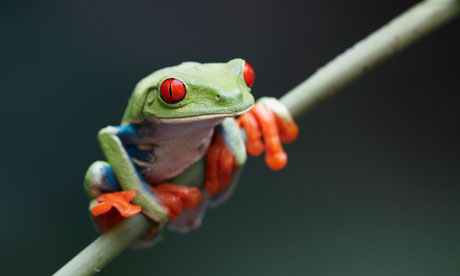 Widely used pesticides can kill frogs within an hour, new research has revealed, suggesting the chemicals are playing a significant and previously unknown role in the catastrophic global decline of amphibians.
The scientists behind the study said it was both "astonishing" and "alarming" that common pesticides could be so toxic at the doses approved by regulatory authorities, adding to growing criticism of how pesticides are tested.
The Guardian - www.guardian.co.uk
24 Jan 2013
D Carrington
Journal Reference
CA Bruhl et al.
Terrestrial pesticide exposure of amphibians: An underestimated cause of global decline?
Scientific Reports. 2013 Jan 24: 3 (Article number: 1135). doi:10.1038/srep01135
'Noah's Ark' to Save Tasmanian Devils from Cancer Plague
Australian scientists and wildlife experts have relocated a group of Tasmanian devils to an island "Noah's Ark" in an attempt to protect them from an epidemic of contagious facial cancer that has been decimating the population.
The disease, which is spread through the animals' bite, has wiped out 84 percent of all Tasmanian devils since first coming to scientists' attention in 1996; some fear that it could obliterate the entire wild population within four decades.
Time - newsfeed.time.com
C Campbell
23 Jan 2013
Location: Australia
OTHER WILDLIFE HEALTH RELATED NEWS
News on Human Activity Affecting Wildlife
Toxic Algal Bloom News
Chronic Wasting Disease News