TOP STORIES

Oil additive polymer PIB may be responsible for seabird deaths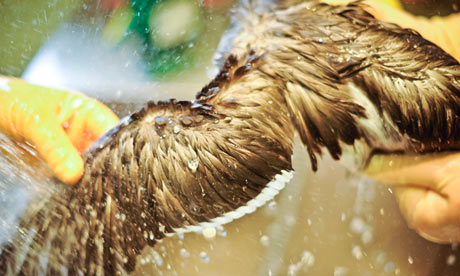 Photo credit: Ben Birchall/PA
Pollution expert says polyisobutene is the sticky substance found on hundreds of seabirds after examining washed-up guillemot
... Professor Steve Rowland, an expert in pollution from Plymouth University, examined the substance found on one of the guillemots washed up on the south coast of the UK. He concluded that it is PIB – polyisobutene – which is used in products ranging from adhesives to sealants and chewing gum. The makeup of the samples he and his team have analysed suggests it was most likely used as an additive in lubricating oil.
About 300 birds have washed up alive coated in the substance. Scores more have been found dead and naturalists are worried that hundreds could have died and been blown out to sea. The Royal Society for Protection of Birds has also heard reports of birds washing up on the coast of Belgium.
Rowland has passed his findings to the Maritime and Coastguard Agency, which is leading the government's response to the incident. Environment Agency scientists have also been working to establish what the substance is.
The Guardian - www.guardian.co.uk
06 Feb 2013
S Morris
Location: Chesil Beach, England, United Kingdom - Map It
Avoiding a cartography catastrophe: Study recommends new tools to improve global mapping of infectious disease
An online, open-access database included in the study evaluates the
quality of data available for all clinically important infectious diseases
known to humans, such as West Nile fever.
Since the mid-nineteenth century, maps have helped elucidate the deadly mysteries of diseases like cholera and yellow fever. Yet today's global mapping of infectious diseases is considerably unreliable and may do little to inform the control of potential outbreaks, according to a new systematic mapping review of all clinically important infectious diseases known to humans.
Of the 355 infectious diseases assessed in the review, 174 showed a strong rationale for mapping and less than 5 percent of those have been mapped reliably. Unreliable mapping makes it difficult to fully understand the geographic scope and threat of disease and therefore make informed policy recommendations for managing it, write the authors of the study, which appears as open access on Feb. 4 in the journal Philosophical Transactions of the Royal Society B.
EurekAlert - www.eurekalert.org
04 Feb 2013
Cited Journal Article
Canine distemper found in city coyotes
Dog owners should make sure their pets' vaccinations are up to date, a veterinarian is warning, after an unusually high number of coyotes with canine distemper have been found in Saskatoon.
Six juvenile coyotes have been found dead or very sick since November. Autopsies have confirmed the disease, which can be transmitted to dogs but not to cats, said wildlife veterinarian Trent Bollinger, of the Canadian Cooperative Wildlife Centre at the University of Saskatchewan Western Veterinary College.
...The high number of infected coyotes discovered this winter may be a result of greater awareness of coyotes as new homes are built outside the city, encroaching on wildlife habitat, Bollinger said.
The Star Phoenix - www.thestarphoenix.com
30 Jan 2013
BA Adam
Location: Saskatoon, Canada - Map It
Crabs help reef fight disease
A particular species of crab has been helping Great Barrier Reef coral combat white syndrome, a deadly disease that causes coral tissue to disintegrate.
Joseph Pollock, from James Cook University's School of Marine and Tropical Biology and the Australian Institute of Marine Science (AIMS), has been studying the disease, and its unlikely helper, the "furry coral crab".
The study, Cymo melanodactylus crabs slow progression of white syndrome lesions on corals, describes how coral-associated crabs help protect their coral hosts from disease, both of which appear throughout the Indo-Pacific.
... "I have been doing a number of assays to determine the cause of this disease and it didn't seem that the crabs could cause the amount of destruction you see with this disease, in which the coral tissue essentially just falls off of the coral skeleton.
Science Alert - www.sciencealert.com
More Coral Reef News
OTHER WILDLIFE HEALTH RELATED NEWS
The caterpillar of an atlas moth, considered to be among the largest in the world,
is pictured in the botanical gardens in Bern. Photograph: Pascal Lauener/Reuters
Marine Mammal News
Bat Health News
One Health News Corner
Huh? That's Interesting!