TOP STORIES

Oh great. Now grebes?!

Sadly your help is needed again. SEANET might have yet another unusual event of bird die-offs. In the past three weeks, they have seen five Horned Grebe carcasses turn up on SEANET beaches in Rhode Island and Massachusetts. Report your sightings of dead and sick birds.
Read on to learn about this unusual bird morality from the SEANET blog and how you can help.
Red-necked Grebe found by Dan Tracey.
We are still in the throes of a sizeable Razorbill die-off, and a smaller, though still notable puffin mortality event, and yet it now appears we might have yet another unusual data blip.
In the past three weeks, we've have five Horned Grebe carcasses turn up on SEANET beaches in Rhode Island and Massachusetts. This is a bit out of the ordinary; we generally get a sporadic report or two in an entire year, and sometimes not even that. Not a single Horned Grebe was reported to SEANET in 2012.
Whether this event will continue, and whether it will approach truly alarming proportions cannot be determined just yet. This is about the time grebes are migrating away from their wintering waters along the coast and flying by night toward their nesting ponds in western Canada and Alaska. Reports to eBird.org show Horned Grebes disappearing from the east coast right around now, and then by summer, nary a grebe is in sight. We may be seeing this uptick in mortality simply because the birds are on the move, though why we wouldn't then see it every year, I don't know.
How you can help...
If you've found a dead bird, and you are either not a Seanetter, or the bird was not found on an official SEANET walk, please report it to the
Wildlife Health Event Reporter
! It only takes a moment to set up an account, it's free, and you will be helping us keep tabs on these mortalities.
SEANET Blog - seanetters.wordpress.com
Location: Rhode Island and Massachusetts, USA
Disease Deadly to Bats Confirmed in Georgia
The disease that has killed millions of bats in the eastern U.S. has been confirmed for the first time in Georgia. The Georgia Department of Natural Resources, the National Park Service and the U.S. Fish and Wildlife Service announced today that bats with white-nose syndrome were found recently at two caves in Dade County.
A National Park Service biologist and volunteers discovered about 15 tri-colored bats with visible white-nose symptoms in a Lookout Mountain Cave at Chickamauga and Chattanooga National Military Park in late February. On March 5, a group led by a Georgia DNR biologist also found tri-colored bats with visible symptoms in Sittons Cave at Cloudland Canyon State Park. A bat from each northwest Georgia site was sent to the Southeastern Cooperative Wildlife Disease Study in Athens. Histopathology confirmed both bats had white-nose syndrome.
Georgia Dept of Natural Resources - www.georgiawildlife.com
Location: View locations on Global Wildlife Disease News Map
White-Nosed Syndrome News
>>>
Bat disease white-nose syndrome confirmed in South Carolina
[Table Rock State Park, South Carolina, USA -
Map It
]
Discovery May Explain How Prion Diseases Spread Between Different Types of Animals
Medical researchers at the University of Alberta have made a discovery that may explain how prion diseases, like chronic wasting disease and mad cow disease, adapt in order to spread between various types of animals.
The research team, led by neurologist Valerie Sim, discovered that a miniscule change in the prions' makeup appears to give the disease the ability to adapt -- to mimic and recreate new strains with which it comes into contact. The team has been studying this area for two years.
Science Daily - www.sciencedaily.com
11 Mar 2013
Cited Journal Article
Other Prion Related News
>>>
Four more deer test positive for chronic wasting disease
[View locations on
Global Wildlife Disease News Map
]
OTHER WILDLIFE HEALTH RELATED NEWS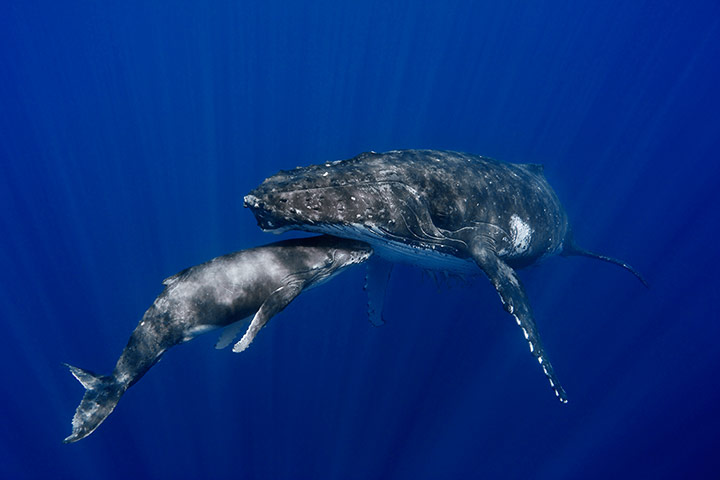 A female humpback whale swims with her calf off the coast of Vava'u Islands, Tonga
Photograph: Jon Cornforth/Barcroft Media
Marine Mammal News
One Health News Corner
Huh?! That's Interesting!