TOP STORIES

Invasive species may be key to understanding death of hundreds of loons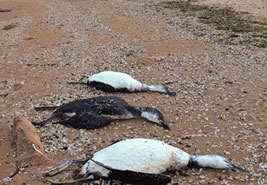 Three dead loons were among the hundreds found by Damon McCormick,
a wildlife biologist with Common Coast Research and Conservation
in Houghton, Mich., who surveyed a seven-mile stretch of beach last October
near the eastern Upper Peninsula town of Gulliver.
(Photo courtesy of Damon McCormick, Common Coast Research and Conservation)
Spring is in the air, with daylight savings taking effect on Sunday, and loons will begin their migration back to the north woods in less than a month.
Loons, of course, are a cultural and natural icon, not only in Minnesota but across the Great Lakes states. But last fall, nearly 900 loons died while migrating south across Lake Michigan, probably more. And it's likely at least some were from Minnesota.
Scientists are not sure what killed the loons, but they suspect that invasive species may be to blame.
In October, Lynette Grimes was hiking toward Lake Michigan at Sleeping Bear Dunes National Lakeshore, outside Traverse City, Mich. The 52-year-old from the nearby town of Benzonia has walked the beaches there for years. But she wasn't prepared for what she saw.
"The beach was just pockmarked with birds everywhere you looked," Grimes said. "This one little peninsula had over 100 dead birds."
... The scientists offered an idea about what might have happened: Invasive zebra and quagga mussels filter the water so it's incredibly clear, allowing an algae called cladophora to grow in huge amounts. Big storms churn up the algae, which settles to the lake bottom and rots. That creates an environment without any oxygen, an ideal home for bacteria that produces a deadly toxin called Type E botulism. That botulism is ingested by invertebrates, tiny worms and freshwater shrimp. And then it works its way up the food chain. They are eaten by fish, including the invasive round goby, which are then eaten by diving birds like loons.
Minnesota Public Radio - minnesota.publicradio.org
11 Mar 2013
D Kraker
Location: Sleeping Bear Dunes National Lakeshore, Michigan, USA
Bat Disease: More Accurate, Sensitive DNA Test Allows Early Identification of Fungus Causing White Nose Syndrome
Even after researchers studying White Nose Syndrome (WNS) established that a fungus called Geomyces destructans is at the heart of the devastating disease, detecting it depended largely on finding dead or dying bats.
This month, the journal Mycologia will publish research by a team of U.S. Forest Service scientists and partners identifying additional species of Geomyces and describing development of a highly sensitive DNA-based technique for early identification of Geomyces destructans on bats as well as in soils and on cave walls.
"The significance of the Forest Service's recent research will have an immediate and direct benefit to WNS response at a national scale," according to Katie Gillies, imperiled species coordinator at Bat Conservation International. "This will allow managers to sample soil and substrates to test for the presence of Geomyces destructans, freeing up limited surveillance funds and time.
Additionally, this opens the door to examine the use of gene silencing as a control mechanism for this devastating fungus. Research like this, that directly benefits resource managers and guides us to controlling this fungus, is critically needed."
Science Daily - www.sciencedaily.com
13 Mar 2013
Journal References
Novel Virus Entry Portal Found
Researchers identify the target protein of a recently discovered human coronavirus, shedding light on infection and possible interspecies spread.
Dutch researchers have identified the host cell protein that allows a recently discovered coronavirus to enter its target cells, according to a study published today (March 13) in Nature. The structure of the protein, called DPP4, appears to be conserved between bats and humans, suggesting that the new findings will help shed light on zoonotic transmission of the virus, as well as provide a target for potential vaccines.
The Scientist - www.the-scientist.com
13 Mar 2013
S Richards
Journal Reference
Concern for the welfare of birds after Flamborough oil spillage
WILDLIFE experts are concerned about an oil slick threatening one of Yorkshire's most important seabird colonies.
Staff at Yorkshire Wildlife Trust's Living Seas Centre in Flamborough are on alert as thousands of birds return to the Yorkshire coast in preparation for breeding on the cliffs around the headland.
The spillage was first reported on Friday but north-easterly winds and heavy seas have seen the oil move nearer to the coast. So far, the largest reports of oiled birds have been from Scarborough, where up to 50 birds are known to have been affected, but casualties have also been washed up at Flamborough, including guillemots, razorbills and shags.
Hull Daily Mail - www.thisishullandeastriding.co.uk
13 Mar 2013
J Campbell
Location:Flamborough Head, England - Map It
OTHER WILDLIFE HEALTH RELATED NEWS
One Health News Corner
Citizen Scientists Make a Difference!
It Ain't All Bad News - Wildlife Professionals Help People Too!
Huh?! That's Interesting!