Wildlife Health Event Reporter

Thank you for spreading the word about the bird mortality events occurring along the US' East coast and for asking your friends and colleagues to share their sightings of dead and sick birds to the Wildlife Health Event Reporter (WHER), www.wher.org. You made a difference. We have seen an increase in reports to WHER as well as the addition of new members. While these incidences are saddening, through the eyes of your reports to WHER, researchers like Drs. Ellis and Courchesne at SEANET/Tufts are gaining a better understanding of what is happening on the ground.

And hey! Non-US East-coasters, oh no - we are not leaving you out! WHER can accept observations from around the globe and your reports are just as important. Take a minute and consider the number of researchers who are working on wildlife disease issues and compare that to the number of people who during their day to day actives come across sick or dead wildlife. OK if you did the math, you would agree that comparably there are many more citizens. Rallied together, that is an amazing corps who can be the 'boots on the ground', for researchers and other wildlife professionals who are on the alert for wildlife health events.

Recent reports to WHER. For details visit WHER at www.wher.org

Florida - Razor bill found and brought to our facility.
Puerto Rico - Dead Gray Kingbird in parking lot. No signs of trauma, ruffled feathers, etc. Lying under a power line but it looked like a normal (insulated) line.
North Carolina - 3 dead Dovekies on the beach
Virgina - Thousands of northern gannets currently off-shore feeding, found 8 dead in various stages of decomposition
North Carolina - Walking along beach, found 3 dead common loons
North Carolina - While walking/birding the beach we came across a dead dovekie or razorbill. Not sure which.
South Carolina - Treated very sick male red breasted merganzer.
Massachusetts - dead razorbill washed ashore
Massachusetts - 2 dead razorbills on the beach
New York - emaciated common redpoll found in yard - died overnight
Illinois - Small bat that is sick or injured laying beside sidewalk in residential area.
Your observations are valuable! Each report expands our baseline knowledge and understanding of disease ecology!
Thanks from the WDIN Team!
Questions/problems with WHER? Email
wher@wdin.org
Tracking bird flu: US wildlife workers on the front line against deadly strains
U.S. Geological Survey and Fish and Wildlife Service experts are paying close attention to reports of a new and deadly strain of bird flu – the H7N9 virus. It's infected 102 people in China at last count, and killed 20 of them.
..."We are going to see whether it really is going to be extensively in wildlife before we ramp up our surveillance in this country."
The bird surveillance program started as concern grew over H5N1 – the other bird flu virus – which has spread to 15 countries since 2003, infecting more than 600 people and killing about 60 percent of them.
NBC News Vitals
M Fox
22 Apr 2013
Kaua'i coral disease worsening, says doctor
USGS specialist: 'The reefs are dying'
The outbreak of deadly coral disease along Kaua'i's North Shore may be targeting more than one species of Montipora coral. The spread of the disease was described as an "epidemic" in a November 2012 report by the U.S. Geological Survey
Until recently, the cyanobacterial disease was thought to be exclusive to the common rice coral. But after returning to Kaua'i this week, Dr. Thierry Work, head of infectious disease for USGS, said the blue rice coral species is also in trouble.
... This disease — which consists of three different bacteria working together — is the first Heacock has seen in his 31 years as an aquatic biologist. Most puzzling, he said, is that it is being found in areas with strong currents, a lot of water movement and low pollution levels.
The Garden Island
19 Apr 2013
Location: Kauai, Hawaii, USA
OTHER WILDLIFE HEALTH RELATED NEWS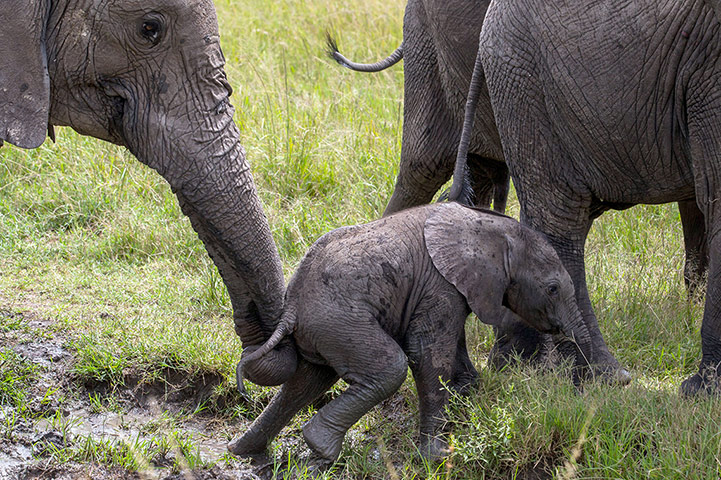 A baby elephant is given a helping hand by a parent after
getting stuck in the mud in the Maasai Mara, Kenya
Photo credit: Paul Goldstein / Rex Features
Avian Influenza
One Health News Corner
Digest Friends Sharing a Little Good News - Because It Ain't All Bad