TOP STORIES

Hundreds of birds die of starvation after spring snowstorm

Robins investigate the snowy conditions during last week's snow storm in Granby.

Local wildlife officials have determined an estimated one to two hundred dead robins and other similar bird species that have been found in the area died of starvation due to the recent snowstorms. It is unclear whether the birds were resident birds of the area or early migrators that were traveling through the area and were caught in the recent snowstorms.

...Robins survive mostly on insects, Crosby said. And due to the snow they were not able to get to the ground to retrieve food to keep up with their energy demands and subsequently starved to death.

Enough birds died to raise concerns about a possible outbreak of a disease, said Michelle Cowardin, a wildlife conservation biologist for Colorado Parks and Wildlife. "When anything like this happens we want to get them to the lab to see if there is a disease problem," Crosby said. "But this was pretty obvious."

Necropsies completed on six birds revealed the cause of death to be starvation, Crosby said.


Sky-Hi News
29 Apr 2013
R Tulley
Location: Granby, Colorado, USA -
Map It
Study links insecticide use to invertebrate die-offs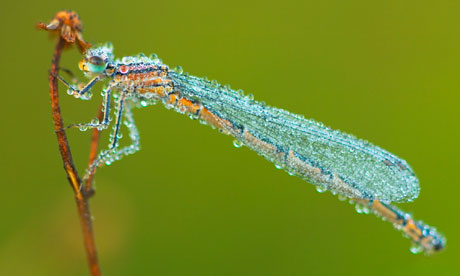 Dragonflies, snails and other water-based species are affected by pesticides leaking into water.
Photograph: Frank Krahmer/ Frank Krahmer/zefa/Corbis
The world's most widely used insecticide is devastating dragonflies, snails and other water-based species, a groundbreaking Dutch study has revealed.
On Monday, the insecticide and two others were banned for two years from use on some crops across the European Union, due to the risk posed to bees and other pollinators, on which many food crops rely.
....Van der Sluijs added that half the 20,000 tonnes of the imidacloprid produced each year is not affected by the EU ban. It is used not to treat crops, but to combat fleas and other pests in cattle, dogs and cats. "All this imidacloprid ends up in surface water," he said.
The research, published in the peer-reviewed
journal PLOS One
, found that 70% less invertebrate species were found in water polluted with the insecticide compared to clean water. There were also far fewer individuals of each species in the polluted water. "This is the first study to show this happens in the field," van der Sluijs said. As well as killing mayflies, midges and molluscs, the pollution could have a knock-on effect on birds such as swallows that rely on flying insects for food, he added.
Cited Journal Article
OTHER WILDLIFE HEALTH RELATED NEWS
White-nose Syndrome News
Avian Influenza News
Articles Courtesy of the Australia Wildlife Health Network
Rabies News
It Ain't All Bad News