TOP STORIES

Bat Health Critical To Human Health

Many of us don't think of bats as cute. The creatures' dark and jagged silhouettes against the night sky may rather trigger gasps and dashes indoors. But as Epstein and his colleagues highlighted, human misconceptions of bats and neglect for the animal's health and habitats may be resulting in serious consequences for our own well-being -- from increased use of toxic pesticides to greater floods to rising risks of pandemic disease.

With more than 1,200 different species, bats make up about a quarter of all the Earth's mammals. Their numbers, however, are declining due to threats that include deforestation, disease and hunting. Meanwhile, many people are actually seeing more bats as changes in land use, agriculture, food industry practices, climate change and human population growth actually bring the remaining animals -- and their viruses -- closer to us. "They live everywhere we do," said Epstein. "So we end up bumping up against bats quite a lot."...

"...viruses don't seek out humans," David Quammen, author of the book Spillover, noted during Wednesday's event. "If they don't have opportunity, they don't get into humans." All of these situations, Epstein added, are manmade. He offered some manmade solutions.


Huffington Post
14 Jun 2013
L Peeples
Scientists Find Clues in Cases of Fish Virus Found in Coastal Washington Steelhead
The spread of a highly virulent fish virus in four separate coastal Washington watersheds from 2007-2011 has been described in a new research paper by the U.S. Geological Survey. The most probable source of the virus was identified as steelhead trout originating from the Columbia River Basin.
....In this work scientists identified the strain types for over 200 coastal virus samples and compared them with IHNV types detected previously throughout the Pacific Northwest. This revealed that there were at least two separate introductions of the steelhead-specific virus into coastal fish populations and that the most probable source of these introductions was the Columbia River Basin. These new data will help resource managers in efforts to prevent further spread of IHNV, and potentially other important fish pathogens, throughout the Pacific Northwest.
USGS Newsroom
13 Jun 2013
Bullfrogs may help spread deadly amphibian fungus, but also die from it
Amphibian populations are declining worldwide and a major cause is a deadly fungus thought to be spread by bullfrogs, but a two-year study shows they can also die from this pathogen, contrary to suggestions that bullfrogs are a tolerant carrier host that just spreads the disease.
When researchers raised the frogs from eggs in controlled experimental conditions, they found at least one strain of this pathogen, Batrachochytrium dendrobatidis, also called Bd or a chytrid fungus, can be fatal to year-old juveniles. However, bullfrogs were resistant to one other strain that was tested.
The findings, made by researchers at Oregon State University and the University of Pittsburgh, show that bullfrogs are not the sole culprit in the spread of this deadly fungus, and add further complexity to the question of why amphibians are in such serious jeopardy.
Oregon State University
17 Jun 2013
OTHER WILDLIFE HEALTH RELATED NEWS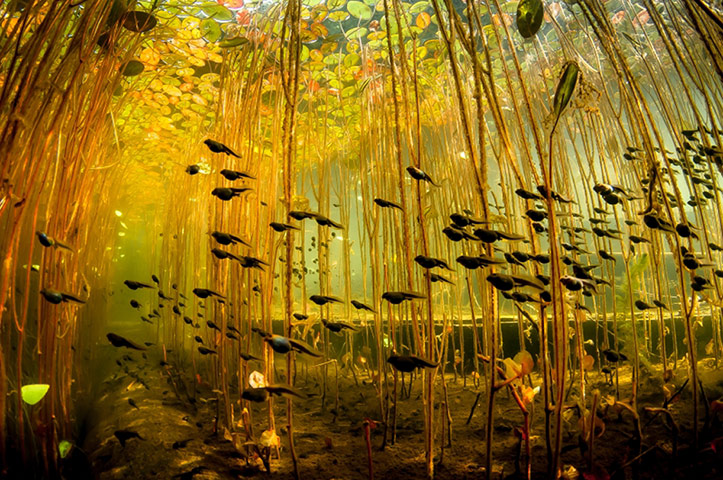 Award winning photo of tadpoles in the Campbell River, British Columbia, Canada.
Photo credit: Barcroft Media/Eiko Jones / Barcroft Media
Bird Health News
Deer Health News
Wildlife Trafficking News
One Health News Corner
Huh?! That's Interesting!
It Ain't All Bad News