TOP STORIES

Asian tigers at risk from domestic dog distemper virus

Some of the world's rarest big cat species are facing a potentially deadly threat from a virus carried by domestic dogs, a wildlife expert has warned.

John Lewis, director of Wildlife Vets International, said there was evidence that Indonesian tigers were at risk. Canine distemper virus has evolved in recent decades from infecting only dogs to affecting other animal groups.

Dr Lewis plans to work with Indonesian vets to develop a strategy to protect the nation's tigers from the virus.

A close relative of measles, Canine distemper virus (CDV) was first described at the beginning of the 20th Century and has been cited as contributing to the demise of the thylacine (commonly known as the Tasmanian tiger as a result of the black stripes on its back).


BBC News
10 Jun 2013
M Kinver
Diseases Spread as Arctic Ice Melts
A cow grazing on the lush pasturelands of Cornwall in southwest England and a seal swimming in the ice cold waters of the Arctic might not appear to have much in common. The link between the two is tuberculosis, with a strain of the disease threatening cattle populations in Britain and elsewhere now showing up among seals in the high Arctic.
Dr Claire Heffernan, a trained vet and a specialist in global health and disease interaction between animals and humans, says that as the climate warms in Arctic regions, more and more diseases from Europe and elsewhere are spreading there, threatening both animal and human populations.
...Toxoplasma, a parasite common in European cat populations, is now being found in polar bears in Greenland. Erysipelas, a disease of domestic pigs, is being found in Musk Oxen in the Canadian Arctic: the animals have also been found to have contracted Giardiasis, an intestinal parasite of humans. Meanwhile West Nile virus has been found in wolf pups in the Canadian Arctic.
Truth Dig
08 Jun 2013
K Cooke

Other Arctic News
Stranded orcas hold critical clues for scientists
The development of a standardized killer-whale necropsy system has boosted the collection of complete data from killer-whale strandings from 2 percent to about 33 percent, according to a recent study from a team of scientists, including a University of California, Davis wildlife veterinarian.
The study, published recently in the journal Marine Mammal Science, suggests that the data can help scientists better understand the life history of the orca species.
... "Because killer whales are apex predators and flagship conservation species, strandings are sad events," said Gaydos. "But this study confirms that if we make every effort to understand why the strandings occurred, we will ultimately improve the fate of the species."
Science Daily
07 Jun 2013
Cited Journal Article
Other Marine Mammals News
>>> Pilot Whale Came Ashore Twice On Assateague Island; Day Later, Whale Found Dead In Jersey
[New Jersey, USA -
Map It
]
Wildlife officials hear from researchers about challenges of hoof rot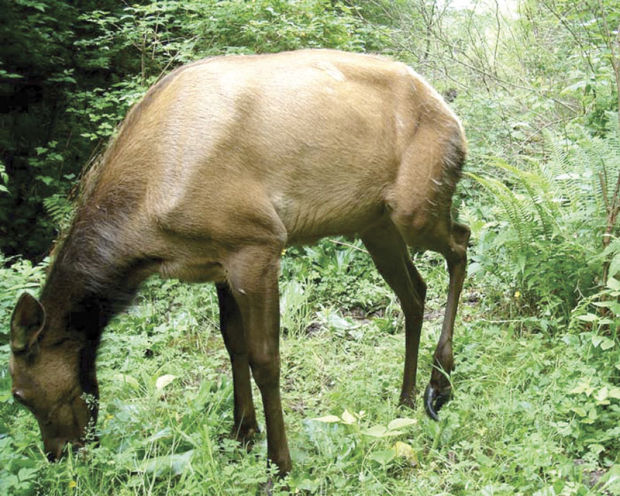 As the Department of Fish and Wildlife receives more reports of elk with painful limping, the agency is asking for help from researchers as far away as England to figure out what is causing the condition.
So far, there's no clear solution to the problem, and it may be impossible to eradicate, WDFW veterinarian Kristin Mansfield told the Fish and Wildlife Commission on Saturday.
Hoof rot has been reported in Southwest Washington since the mid-1990s and WDFW started researching it in 2008. But Saturday was the first time that the commission, which sets policy for WDFW, got a formal briefing on the subject.
...Nate Pamplin, WDFW assistant director for wildlife, called hoof rot "an extremely important issue for the agency. It's causing great concerns with the public and the hunting community in Southwest Washington."
The Daily News Online
10 Jun 2013
T Paulu
Location: Washington, USA
Other Cervid Health News
OTHER WILDLIFE HEALTH RELATED NEWS
West Nile Virus News
One Health News Corner
It Ain't All Bad