TOP STORIES

Bat-killing fungus lurks in the Kansas City area

A deadly fungus that has wiped out hibernating bats by the millions in its eight-year march west from a New York cave has finally crept into Jackson County.

The discovery of "white-nose syndrome" in three tri-colored (or Eastern pipistrelle) bats in a limestone mine marks the nation's westernmost spread, federal officials said last week. Afflicted mammals were found last winter in east-central Missouri; before that it was seen in the cave colonies of Pike County near the Mississippi River.


22 Jan 2014
Kansas City Star
D Levings
Reassortment patterns of avian influenza virus internal segments among different subtypes
The segmented RNA genome of avian Influenza viruses (AIV) allows genetic reassortment between co-infecting viruses, providing an evolutionary pathway to generate genetic innovation. The genetic diversity (16 haemagglutinin and 9 neuraminidase subtypes) of AIV indicates an extensive reservoir of influenza viruses exists in bird populations, but how frequently subtypes reassort with each other is still unknown.
Here we quantify the reassortment patterns among subtypes in the Eurasian avian viral pool by reconstructing the ancestral states of the subtypes as discrete states on time-scaled phylogenies with respect to the internal protein coding segments. We further analyzed how host species, the inferred evolutionary rates and the dN/dS ratio varied among segments and between discrete subtypes, and whether these factors may be associated with inter-subtype reassortment rate.
7th Space
24 Jan 2014
Cited Journal Article
Eagle and grebe bird kills spur worry about West Nile mutation
The mystery surrounding the deaths of 20,000 eared grebes along the Great Salt Lake shoreline has Davis County Mosquito Abatement District officials concerned, as a test is being conducted to determine if it is an existing West Nile virus strain or a mutated strain that killed the birds. Mosquito Abatement District Director Gary Hatch appeared before the Davis County Commission Tuesday expressing his concern. Hatch said he is not certain what effect the grebes infected with the West Nile virus may have on next summer's mosquito season, but there is the possibility the district could be facing a new strain of the virus in its effort to protect the public through its abatement sprayings.
Testing has confirmed that more than 50 bald eagles died in Utah after scavenging on dead grebes that had the West Nile virus, the National Wildlife Health Center said.... But now district officials are concerned about where the grebes initially contracted the virus, and how it spread so quickly among that bird population.
"We know what killed the eagles," Hatch said. "But what happened with the grebes is the concern." Local officials suspect based on the evidence of positive test results that the grebes likely contacted the virus somewhere else along their migratory route.
Standard-Examiner
22 Jan 2014
B Saxton
Scientific Task Force on Avian Influenza and Wild Birds statement on: H5N8 Highly Pathogenic Avian Influenza in poultry and wild birds in Republic of Korea January 2014
Current situation
The Republic of Korea reported its first of a number of outbreaks of H5N8 highly pathogenic avian
influenza (HPAI) at a duck farm in Gochang, Jeolla Province, 300 kilometers southwest of Seoul, on
16 January, 2014. Following these outbreaks a number of wild birds have been reported as having died from the infection. Dozens of Baikal teal (Anas formosa) and a smaller number of bean geese
(Anser fabilis) have died to date, some of which have tested positive for the virus. The H5N8 strain of influenza has since been identified on at least 17 other farms, with tests currently under way
for many other suspected cases. Over 640,000 poultry have already been slaughtered, with many
hundreds of thousands more set to be destroyed....
The Scientific Task Force on Avian Influenza and Wild Birds
The United Nations Environment Programme/Convention on Migratory Species (UNEP/CMS)and Food and Agriculture Organization Co-convened Scientific Task Force on Avian Influenza and Wild Birds was established in 2005 and works as a communication and coordination network and continues to review the role of wild birds in the epidemiology of AI and the impact of the disease on wild birds, promoting a balanced opinion based on currently available evidence. Task Force members and/or observers include WHO, OIE, FAO, CMS, Ramsar Convention, AEWA, Wetlands International, Wildfowl & Wetlands Trust, Birdlife International, Royal Veterinary College, Ecohealth Alliance and International Council for Game and Wildlife Conservation.
Related News Stories
OTHER WILDLIFE HEALTH RELATED NEWS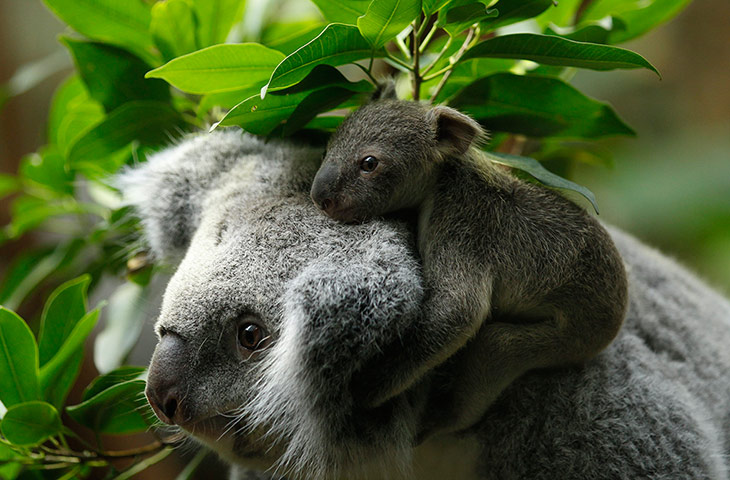 A koala joey hangs on his mother Eola after a weighing procedure at the zoo
in the western German city of Duisburg. Photograph: Ina Fassbender/Reuters
One Health News Corner
Huh?! That's Interesting!