TOP STORIES

CDC reorganization creating emerging and zoonotic disease center


A new division of the Centers for Disease Control and Prevention is expected to improve resource allocation, scientific collaboration, and partnership in addressing emerging and zoonotic diseases, a spokesman said.

The CDC planned at press time to begin operations of the proposed National Center for Emerging and Zoonotic Infectious Diseases in January, but agency spokesman David Daigle said in a message that it could be longer until the change becomes official.

The new division includes parts of the National Center for Zoonotic, Vectorborne, and Enteric Diseases and the National Center for Preparedness, Detection, and Control of Infectious Diseases.


JAVMA News - www.avma.org/onlnews
1 February 2010
Dozens of disoriented pelicans recovering from storm's effects
A few dozen very wet, skinny California brown pelicans huddled by heaters at the International Bird Rescue Research Center in San Pedro on Thursday.
Near casualties of the series of powerful storms over the past three days, the birds were rescued and are being rehabilitated in balmy rooms with high-protein diets.
"These birds are really contaminated," rehabilitation manager Julie Skoglund said. "That means that there's something on them that makes them not waterproof. They need to be washed and waterproofed."
Daily Breeze - www.dailybreeze.com
21 January 2010
S Mazza
Photo credit: B Graverson/Daily Breeze
Location: Los Angeles County, California, USA - Map It
Related Extreme Weather News
>>> Cold killed record number of sea turtles
[Florida, USA -
Map It
]
Discovery of Algae's Toxic Hunting Habits Could Help Curb Fish Kills
A microbe commonly found in the Chesapeake Bay and other waterways emits a poison not just to protect itself but to stun and immobilize the prey it plans to eat, a team of researchers from four universities has discovered.
The findings about algae linked to massive fish kills could lead to new ways to slow the growth of these tiny but toxic marine creatures.
. . . "This new research opens the door to reducing bloom frequency and intensity by reducing the availability of its prey," said Allen Place of the Institute of Marine and Environmental Technology at the University of Maryland Center for Environmental Science.
Science Daily - www.sciencedaily.com
21 January 2010
Chronic Wasting Disease Found in White-tailed Deer in Virginia
The Virginia Department of Game and Inland Fisheries (VDGIF) received laboratory confirmation on January 19, 2010, that a white-tailed deer tested positive for chronic wasting disease (CWD). This is the first confirmed case of CWD in Virginia.
The deer was killed by a hunter in Frederick County less than one mile from the West Virginia line.
With this case, Virginia now joins 17 other states and Canadian provinces with CWD, five of which are east of the Mississippi River.
Virginia Dept. of Game and Inland Fisheries - www.dgif.virginia.gov/news
20 January 2010
Photo courtesy of the Virginia Dept. of Game and Inland Fisheries
Location: Frederick County, Virginia, USA - Map It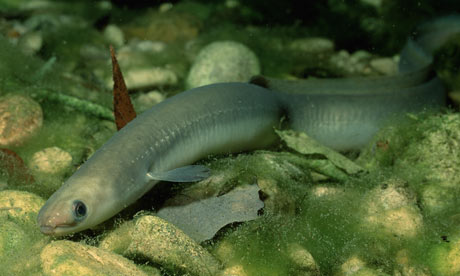 Thames eel populations crash by 98% in five years, scientists warn
Eel populations in the river Thames have crashed by 98% in just five years, scientists warned today.
. . . Each year, ZSL's Tidal Thames Conservation Project places eel traps in a number of the river's tributaries, to catch the fish and allow scientists to record numbers before setting them free.
While 1,500 were captured in the traps in 2005, just 50 were recorded last year.
The Guardian - www.guardian.co.uk
21 January 2010
Photo credit: Corbis/Visuals Unlimited
TOP READ LINKS FROM LAST WEEK
NEWS
PUBLICATIONS
OTHER WILDLIFE HEALTH RELATED NEWS
Photo credit: I Kato/Reuters
White-Nose Syndrome

Huh, That's Interesting
!