TOP STORIES

Wildlife Toll Mounts as BP Oil Inundates Gulf Coast Marshes

. . . So far, workers have retrieved 584 animals -- 78 alive and 506 dead -- from the oil-stained coast. The count is lower than many biologists expected.

On Tuesday, while BP PLC was preparing yet another strategy to plug the gusher, biologists found just one bird, another brown pelican.

The day before -- Memorial Day -- five oiled seagulls were retrieved.


Environmental officials investigate dolphin deaths
Federal environmental regulators are investigating an unusually large number of bottlenose dolphin deaths along the northern coast of the Gulf of Mexico that occurred before the catastrophic Deepwater Horizon oil spill.
There were 62 dolphin deaths from Louisiana to the Florida Panhandle in March and an additional 39 in April, said Erin Fougeres, a marine mammal biologist with the National Oceanic and Atmospheric Administration (NOAA) Marine Fisheries Service.
The average is 18 for March and 13 for April, she said.
USA Today - www.usatoday.com (Source: Florida Today)
06 Jun 2010
J Schweers
Photo credit: Tony Winton, AP
Location: USA, Alabama - Map It
, Florida - Map It
, Louisiana - Map It
, and Mississippi - Map It
U.S. Fish and Wildlife: columnaris disease caused Stonewall Jackson fish kill
Test results from the U.S. Fish and Wildlife Service have identified the cause of a fish kill at a Lewis County lake.
DNR biologist Kevin Yokum says that tests conducted by the US Fish and Wildlife Service have identified the cause of the fish kill as columnaris disease.
It typically affects one species during an outbreak. In this case, it was crappie.
West Virginia Public Broadcasting - www.wvpubcast.org
04 Jun 2010

B Adducchio
Location: Lewis County, West Virginia, USA - Map It
>>>FULL ARTICLE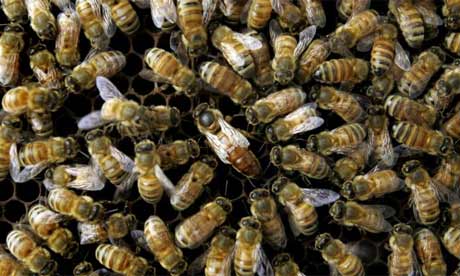 Honeybee collapse: Stung from behind
. . . It's a truly cautionary tale. Instead of a crisis that impacts humanity directly, such as a tidal wave or a pandemic, this one hits us as collateral damage through our ecological partners.
As such, it's tempting to use this crisis as an object lesson: we mess up the environment, pollinators suffer, harvests fail—and in the end, the cascade triggered by humanity rolls back on us in the form of hunger.
Perhaps this circular justice was too poetic to resist; perhaps stories from beekeepers such as Olson were a little too compelling — because in all the excitement, few researchers stopped to question whether the bee crisis was a genuine global trend.
Guardian News - www.guardian.co.uk (Source: Conservation Magazine)
07 Jun 2010
N Johnson
Photo credit: Haraz Ghanbari/AP
>>>FULL ARTICLE
Related News
>>>Bumblebees on UK pollination 'rescue mission' die in hibernation
>>>Jeff Pettis on the continuing mystery of honeybees' decline
Reported Wildlife Mortality Events to the USGS National Wildlife Health Center Updated
USGS and a network of partners across the country work on documenting wildlife mortality events in order to provide timely and accurate information on locations, species and causes of death. This information was updated on Jun 04, 2010 on the USGS National Wildlife Health Center web page, New and Ongoing Wildlife Mortality Events Nationwide. Quarterly Mortality Reports are also available from this page. These reports go back to 1995.
OTHER WILDLIFE HEALTH RELATED NEWS
Rabies
It Ain't All Bad News
Photo credit: Butterfly Conservation/PA
Huh, That's Interesting!

WILDLIFE HEALTH RELATED PUBLICATIONS
Browse complete Digest publication library
here
.
Transboundary and Emerging Diseases
- April 2010
Volume 57 Issue 1-2
SPECIAL ISSUE: ONE HEALTH, ONE MEDICINE: TACKLING THE CHALLENGE OF EMERGING DISEASES