TOP STORIES

Two dead birds found infected with W. Nile virus

Two dead birds have tested positive for West Nile virus in Yolo County.

The Sacramento-Yolo Mosquito & Vector Control District reported that the birds, one from Woodland and the other from West Sacramento, are the first signs of the virus this year in Yolo County.

Nine dead birds and 18 mosquito samples have tested positive for the virus in Sacramento County so far this year.


The Modesto Bee - www.modbee.com
09 July 2010
C Locke
Location: California, USA - Woodland - Map It
; West Sacramento - Map It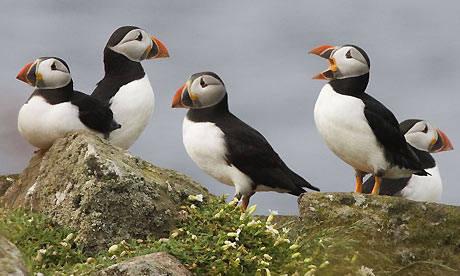 Puffin colony recovers after mystery crash in numbers
England's biggest puffin colony is bouncing back after numbers of breeding pairs tumbled in the last major survey, the National Trust said today.
Puffin numbers on the Farne Islands were down by 30% in the last five-yearly survey conducted in 2008, a fall that was mirrored elsewhere in the UK.
Small surveys conducted by wardens on the islands off the coast of Northumbria suggest the birds' numbers have risen by 5% in each of the past two years, but researchers say they do not know what caused the last crash – and another is possible.
The Guardian - www.guardian.co.uk
08 July 2010
Photo credit: M MacLeod
Reported Wildlife Mortality Events to the USGS National Wildlife Health Center Updated
USGS and a network of partners across the country work on documenting wildlife mortality events in order to provide timely and accurate information on locations, species and causes of death. This information was updated on July 7, 2010 on the USGS National Wildlife Health Center web page, New and Ongoing Wildlife Mortality Events Nationwide. Quarterly Mortality Reports are also available from this page. These reports go back to 1995.
USGS National Wildlife Health Center
07 July 2010
Area: United States
TOP READ LINKS FROM LAST WEEK
NEWS
PUBLICATIONS
OTHER WILDLIFE HEALTH RELATED NEWS
Photo credit: D Shale/University of Aberdeen/PA
Oil News
Huh, That's Interesting!