TOP STORIES


Lobster Dieoffs Linked to Plastic Pollution, Including Bisphenol A

. . . According to University of Connecticut, after three years and $3 million invested in a research initiative, Laufer found that chemicals such as bisphenol A (BPA) are interfering with growth hormones in young lobsters, slowing their molting patterns and changing their development, which then leads to deformations, susceptibility to disease, and for many, death.

This seems to explain a huge lobster dieoff that began in the late 1990s, bringing lobster catches to about 1/6 of their 1998 levels.

Hot spots in the Sound where lobsters have high levels of alkylphenols (chemicals from detergents, plastics and paints) were discovered, as well as the fact that the lobsters are absorbing the chemicals through their food source -- water-filtering clams and mussels that are taking in the chemicals leached from landfills and water treatment facilities. Of the 1 million or so pounds of BPA produced annually, 60% makes it to the ocean.


TreeHugger - www.treehugger.com
J Heimbuch
11 Aug 2010
Photo courtesy of University of Connecticut
DNR says deadly VHS fish virus did not spread
The potentially deadly VHS fish virus did not spread to any inland Wisconsin waters that were tested for the virus in 2010, according to state fisheries officials.
None of the fish that Department of Natural Resources fisheries biologist collected from nearly 70 lakes and rivers this spring tested positive for viral hemorrhagic septicemia.
. . . "These results show that taking the prevention steps can contain the disease as well as help prevent the spread of other aquatic invasive species."
News of the North - newsofthenorth.net
10 Aug 2010
Polar Bears, Glaucous Gulls Most at Risk from Contaminants
Although animals throughout the Arctic are exposed to an alphabet soup of pollutants and contaminants that are carried north from industrialized countries, only polar bears in East Greenland and Svalbard and glaucous gulls in Svalbard appear to be showing any deleterious effects, according to a new report co-authored by a researcher from the Norwegian University of Science and Technology.
. . . While researchers could not document strong evidence that contaminants such as PCBs and DDT were adversely affecting animals throughout the Arctic, other factors, such as the impact of climate change, disease and the invasion of new species will affect the overall exposure that each animal has to pollutants.
Science Daily - www.sciencedaily.com
10 Aug 2010
Photo credit: USGS NBII
OTHER WILDLIFE HEALTH RELATED NEWS
White-nose Syndrome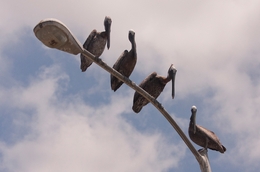 Oil Spill News
Photo credit: S Selvidge