TOP STORIES
CWD found in city harvested deer
In an unexpected turn with the city of Buffalo's deer management program, two of the deer harvested within city limits last week tested positive for Chronic Wasting Disease.
Buffalo Police Chief Mike Chapman stated that the positive tests were a surprise and that the meat from the two deer will not be distributed to the public as planned.
"We had two deer that tested positive for chronic wasting and we will not be giving those deer away," Chapman said. "They're not going to be given to anybody."
Buffalo Bulletin - www.buffalobulletin.com
23 Nov 2010
Location: Buffalo, Johnson County, Wyoming, USA -
Map It
Related News
Pelican mystery baffles NC officials
Officials in North Topsail Beach are looking into the intentional killing of at least 25 pelicans.
The town said in a news release Monday that wildlife officials examining the birds believe they were killed on purpose.
Toni O'Neil is the director of the nearby Possumwood Acres Wildlife Sanctuary.
WAVY Channel 10 News - www.wavy.com
22 Nov 2010
Photo credit: AP Photo/Wilfredo Lee, FILE
Location: North Topsail Beach, Onslow County, North Carolina, USA - Map It
Prospect of state killing infected elk alarms hunters
A study that could end with the state-sanctioned killing of elk infected with brucellosis in Montana is raising concerns among some Helena hunters.
The Helena Hunters and Anglers are holding a meeting on Dec. 1 and have asked two Montana Fish, Wildlife and Parks representatives to explain the five-year program, which is slated to begin at the end of January.
"We just want to get it all on top of the table and start talking about some things," said Jim Posewitz.
Helenair.com
28 Nov 2010
E Bryon
Related News
Federal plan would team up agencies for bat cure
With more than 1 million bats in the Northeast dead as a result of the still-mysterious White-Nose Syndrome, a federal plan has been hatched to unite resources across the nation for the development of a cure.
The plan outlines actions necessary for federal, state and tribal agencies to join forces against White-Nose Syndrome (WNS), a disease affecting hibernating bats and named for the white fungus that appears on the bats' muzzle and other body parts.
It also provides an overall strategy for investigating WNS and managing its cause.
NorthJersey.com
28 Nov 2010
D Rolando
Photo credit: U.S. Fish and Wildlife Service
OTHER WILDLIFE HEALTH RELATED NEWS
Photo credit: Robert Haas/National Geographic/Caters News Agency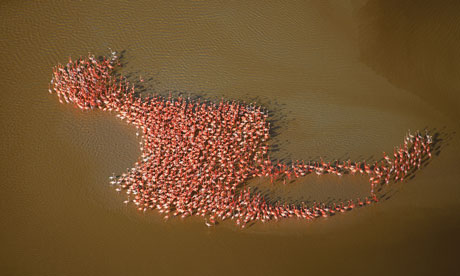 Coral Reefs
Huh, That's Interesting!