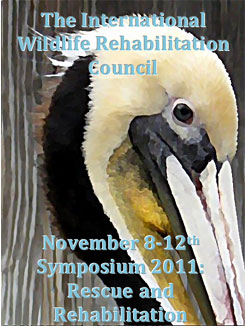 Upcoming Wildlife Health Related Meetings

IWRC Symposium: Rescue and Rehabilitation
Greater Fort Lauderdale, Florida, USA
November 9-12, 2011

Scheduled symposium events include book signings, wildlife films, a reception, a banquet and more.




The Wildlife Society 18th Annual Conference
Waikoloa Village, Hawaii, USA
November 5-10, 2011
The conference's Plenary Session will focus on ways in which natural-resource agencies can work with a variety of public and private groups to more-effectively conserve North America's unparalleled wildlife resources. In addition, the challenge of invasive species is critical to The Wildlife Society's mission and so a second general session has also been added to specifically address the issue of invasives.
Society of Environmental Toxicology and Chemistry (SETAC) North America 32nd Annual Meeting
Boston, Massachusetts, USA
November 13 - 17, 2011



Learn about Other Upcoming Meetings and Conferences Using the WDIN Event Calendar
If you are interested in staying current on upcoming wildlife disease related meetings, visit the Wildlife Disease Information Node's searchable Event Calendar.
Users can browse month-by-month or search for specific meetings. Click on a meeting title and get information directly from the conference web site.
For those who use RSS readers, like Google Reader or Bloglines, WDIN also provides the RSS feed, 'Upcoming Meetings and Event'. Subscribers are notified of upcoming meetings over the next four months. You can subscribe
here
. Non-RSS users might find this link useful too. Click on the
subscription link
anytime and get the same list of upcoming meetings.
Is an Important Meeting Missing?
If you notice that our calendar is missing an important meeting, please email the meeting url to us at digest@wdin.org and we will add it.