Twelve Days of the Wildlife Health Event Reporter
Day 10: Schedule a WHER Party and We'll Demo the System. You can wear your Ugly Holiday Sweater!

Through our special series, Twelve Days of the Wildlife Health Event Reporter (WHER), we have been describing the significance of this online wildlife health surveillance system, and its many features and capabilities.

At this point, you may have some questions about this system and what it can do for you and/or for the wildlife health community. Your questions are always welcome and can be sent to us at wher@wdin.org.


Figure 1: FAQs on the Wildlife Health Event
Reporter News & Information website.
You may also find answers to your 'how-to-do' questions on WHER's instructional site, the
Wildlife Health Event Reporter News

&

Information
[See Figure 1] under the label, Frequently Asked Questions (FAQ),
http://whmn-wher.blogspot.com/search/label/FAQ
. This is the same site that you would go to and sign up for feeds or email alerts that are delivered when reports are entered into the WHER system,
http://whmn-wher.blogspot.com/p/feedsemail-alerts.html
Schedule a Demonstration
As a wildlife professional, you might have more in depth questions about WHER. You think it can support your work and assist with monitoring for wildlife health activity at the ground level, but you are still not quite sure how it all works.
Schedule a demonstration of WHER
and get

answers

to your questions, su

ch as

how can you

:
Sign up to receive WHER alerts


Utilize WHER's disease diagnostic fields


Automate pulling wildlife health data from WHER and mash it with your own data


Contribute your organization's data (older or current) to the WHER system


Use WHER to communicate and coordinate response efforts in a wildlife health emergency (e.g. oil spill or avian botulism outbreak)


Make use of WHER because your organization does not have an online data collection system for wildlife health surveillance


Use WHER to record those events the public calls or emails to report that are valuable observations but do not fit your wildlife surveillance protocol [See workflow suggestions for state biologist and wildlife rehab centers]


Use WHER data to make your own maps outside the WHER system (e.g. Google Earth or your own mapping application]
Figure 2: Megan Hines, our Technical
Manager, and her husband wearing their
prizing winning ugly holiday sweaters
The WHER team would be happy to schedule a time to demonstrate WHER'
s
features and capabilities and personally address your questions and concerns.
If you are interested in a guided tour of the WHER system, email us at wher@wdin.org. We will work with you to set up a demonstration to show you how information is entered,
viewed and searched within the system
.
In addition, we can walk you through WHER's more advanced features, such as how wildlife health data can be exchanged between WHER and external sources.
If you think the Wildlife Health Event Reporter can potentially suit your wildlife health surveillance needs, schedule a demonstration and find out!
You don't have to wait for Christmas Day to start playing with WHER. It is available now!


---
TOP STORIES
Bats May Hold Clues to Long Life and Disease Resistance
... The Bat Pack, a team of researchers at the Australian Animal Health Laboratory (AAHL) in Geelong, conduct a wide range of research into bats and bat borne viruses, and their potential effects on the human population, as part of the effort to safeguard Australia from exotic and emerging pests and diseases.
Their paper
, published today in the journal Science, provides an insight into the evolution of the bat's flight, resistance to viruses, and relatively long life.
Science Daily - www.sciencedaily.com
20 Dec 2012
Cited Journal Article
Acid link in squid deaths

Natural neurotoxin can poison sea creatures, say scientists
Researchers at a Pacific Grove laboratory have found a potential explanation for why thousands of Humboldt squid washed up on Santa Cruz County shores last week. They were victims of poisoning.
Since the stranding, researchers at Stanford University's Hopkins Marine Station have been looking for an explanation for why Aptos beaches ended up covered with large red cephalopods Dec. 10. By sifting through massive amounts of ocean data, one researcher spotted a pattern, possibly the first clue in solving a bizarre marine mystery.
"There was a cycle of spikes in the amount of domoic acid in the water," said R. Russell Williams, a graduate researcher at the lab.
Domoic acid is a naturally occurring neurotoxin. The spikes coincide with mass squid deaths which happen about every three weeks, though usually in far smaller numbers. Prior to the Dec. 10 event, there were strandings reported Nov. 20 and Oct. 30, Williams said.
Last week's stranding was unusually large and was concentrated on a highly trafficked beach area....While relatively common, the reason for the strandings is still a mystery. One theory is that because the big 10-tentacled creatures don't normally call Monterey Bay home, the alien invaders simply became disoriented and beached themselves en masse.
Monterey Herald - www.montereyherald.com
20 Dec 2012
J Hoppin
Location: Santa Cruz Co., California, USA - Map It
Reported Wildlife Mortality Events to the USGS National Wildlife Health Center Updated
USGS and a network of partners across the country work on documenting wildlife mortality events in order to provide timely and accurate information on locations, species and causes of death.
This information was updated on December
1

9
, 2012 on the USGS National Wildlife Health Center web page, New and Ongoing Wildlife Mortality Events Nationwide.
Quarterly Mortality Reports are also available from this page. These reports go back to 1995.
USGS National Wildlife Health Center
19 Dec 2012
Location:US
OTHER WILDLIFE HEALTH RELATED NEWS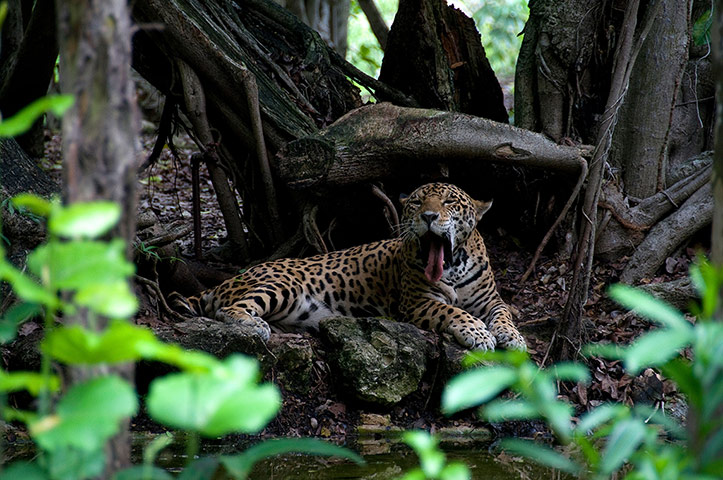 A spotted jaguar in the jungle of Brazil.
The Guardian's Week in Wildlife
Photo credit: Larry Larsen/Alam

y
One Health News Corner
Huh?! That's Interesting!
It Ain't All Bad News